On Friday, July 17th, 2020 at approximately 9:25 PM, the Santa Ana Police Department received several calls of a male down in the roadway at the intersection of Harbor Blvd and McFadden Ave. Officers responded to the area and found a male down in the roadway suffering major injuries. Orange County Fire Authority personnel responded and began to treat the male before pronouncing him deceased at the scene.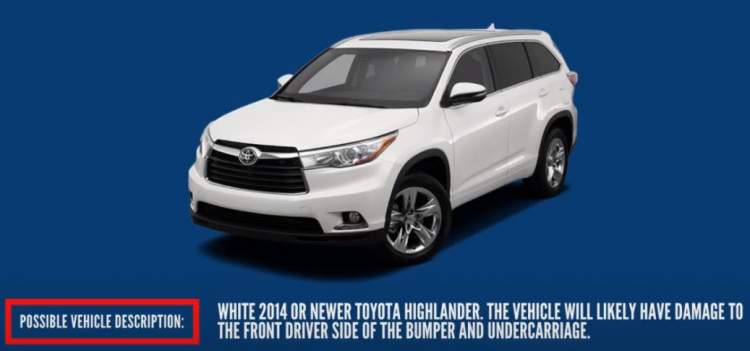 The preliminary investigation has revealed the male was standing on the center median of McFadden Ave when he was struck by a vehicle headed west. The vehicle involved fled from the scene prior to the officers' arrival. It remains outstanding and it, along with the driver, remain unidentified. It is unknown if alcohol is to have played a role in this collision.
Possible Vehicle Description: White 2014 or newer Toyota Highlander. The vehicle will likely have damage to the front driver side of the bumper and undercarriage.
Anyone with information on the identity/whereabouts of the suspect/vehicle is asked to contact Corporal Quinones at NQuinones@santa-ana.org or (714) 245-8701.