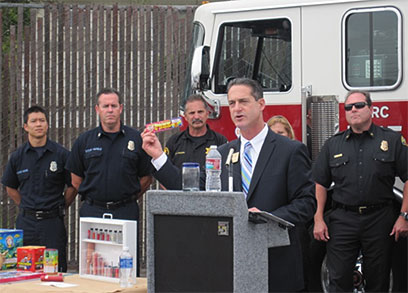 Supervisor Todd Spitzer Urges Safe Use of Fireworks in Orange County
On Monday, July 1, Supervisor Todd Spitzer spoke at a press conference on fireworks safety. The press conference was organized by the Orange County Sheriff's Department (OCSD) and the Orange County Fire Authority (OCFA). An OCFA Director, Supervisor Spitzer discussed the importance of knowing the difference between legal and illegal fireworks. He also stressed the need to always operate legal fireworks safely and under the supervision of an adult. Supervisor Spitzer emphasized the importance of not drinking alcohol while using fireworks. Adults who are legally operating fireworks should do so in a controlled atmosphere.

"Water boils at 212 degrees, glass melts at 900 degrees, and fireworks sparklers burn at 1200 degrees," Supervisor Spitzer said. "Please be aware of the extreme heat of a burning sparkler and all safe and sane devices while safely operating such fireworks."
Since fireworks are not always full-proof (since even legal fireworks can be misused and cause injuries), the best way to enjoy fireworks is by attending a professional fireworks display.
In the Third District, only the City of Villa Park allows the legal use of Safe and Sane fireworks. In other parts of Orange County, the cities of Buena Park, Costa Mesa, Fullerton, Garden Grove, Huntington Beach, Santa Ana, Stanton, and Westminster allow Safe and Sane fireworks.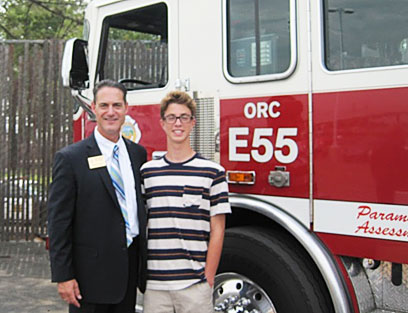 Other speakers at the event included OCFA Assistant Chief of Operations Dave Thomas, who provided safety tips regarding how to prevent injuries and fires during 4th of July celebrations. OCSD Bomb Squad Investigator Robert Mann also spoke about the difference between illegal and Safe and Sane (legal) fireworks. In addition, Alex Cobb, a teenaged victim of a bottle bomb, spoke about the importance of fireworks safety. Alex's eye was severely injured and he has undergone seven corrective surgeries.
The press conference concluded with a Fireworks Danger Demonstration. This demonstration included a watermelon with illegal fireworks inside, a bottle bomb, and a mannequin with sparklers to show how quickly a fire can spread to clothing and skin.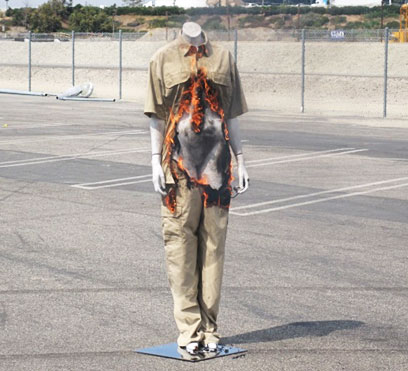 Fifty percent of fireworks injuries are to the hand, face, or head. Even one injury is one too many. The press conference provided important information to educate the public regarding the appropriate use of legal fireworks and the hazards of illegal (and sometimes even legal) fireworks. With these safety tips in mind, Supervisor Spitzer encourages all to enjoy a fun and safe Fourth of July celebration.
Fireworks Safety Tips for July 4th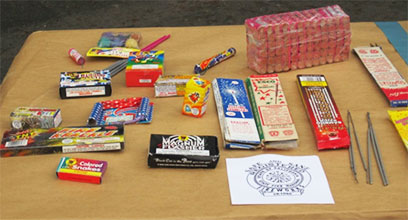 As Supervisor Spitzer, OCFA, and OCSD discussed at the fireworks safety press conference, wise precautions will ensure a safe and fun holiday.
Teach children proper safety around fireworks. Over 40 percent of firework-related injuries in 2012 were inflicted on people below the age of 20. Never leave children unattended around fireworks and never let children run or play with sparklers. Within 30 days of July 4, 2012, there were nearly 9,000 injuries related to the use of fireworks. According to the Consumer Product Safety Commission, many of these injuries could have been prevented "if the fireworks had been used under close adult supervision."
Buy fireworks from certified and legal vendors, and follow all local laws and regulations if you choose to light fireworks this Fourth of July. All six firework-related deaths last year were due to illegal and homemade fireworks. Illegal and homemade fireworks do not adhere to the same thorough standards as legal fireworks, so they are often more dangerous and more likely to cause bodily injury.
Keep lots of water on hand, both in a hose and in a bucket, to soak fireworks that have already been used, before throwing them away in the trash. Fireworks that do not go off, or "dud" fireworks, are dangerous. After 20 minutes, submerge fireworks that do not go off in water. Also, place used sparklers in buckets of water, as they can remain extremely hot and can cause burns after the flame goes out.
Alcohol and fireworks do not mix. Alcohol lowers inhibitions and makes it more likely to make mistakes. Make sure anyone handling fireworks has not consumed any alcohol and has the expertise and experience to handle fireworks. Fireworks can be deadly, and a designated firework-handler can save lives.
Most importantly, be aware and call 911 or emergency services if someone around you is injured or in danger. Firework-related injuries most often occur on the face, head, and hands so be vigilant of those around you, especially children.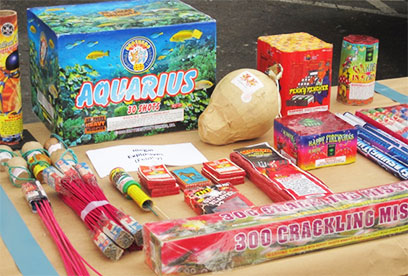 Celebrate Our Great Country's Independence Day Throughout Orange County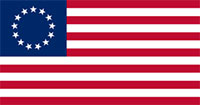 On July 4, 1776, thirteen colonies claimed their independence from Great Britain, an event which led to the formation of the United States. Each year on July 4, also known as Independence Day, Americans celebrate this historic event.
Here are several upcoming events being offered in Orange County to help celebrate our great country's independence (Note that the City of Santa Ana already held their 4th of July event on Sunday, June 30, 2013):
City of Orange – 3rd of July Celebration: Start your Independence Day festivities a day early by joining the City of Orange 3rd of July Celebration. The event kicks off with live music, children's activities, community food booths, and an overall hometown carnival atmosphere. Nighttime entertainment will be hosted at Fred Kelly Stadium, with musical performance by the Orange Community Master Chorale and a concluding patriotic fireworks salute to America. Tickets are $7 and can be purchased at the Community Services Department at 230 E. Chapman Ave. (corner of Grand St.) through 5:30 pm on Wednesday, July 3, 2013. Tickets will also be available at the front of the event after 1:30 pm. Children under two years of age enter free. For more information, call the Orange Special Events Hotline at (714) 744-7278 or visit www.cityoforange.org.
Orange Park Acres 4th of July 5K: Runners in the Orange Park Acres Fourth Annual 4th of July Pre-Parade 5K will pass grazing horses and unusual farm animals as they travel through the community along the traditional 4th of July parade route. Custom medals will be awarded to the top three race finishers in eleven age brackets. The event will start in front of Salem Lutheran Church at 6500 E. Santiago Canyon Rd. All runners are welcome and admission is free to the public. Registration and Bib & T-shirt pickup begins at 6:45 am. The 5K Race/Walk starts at 8:00am, followed immediately by the 4th of July parade at 9:30 am.
City of Tustin – 4th of July Celebration: The City of Tustin Parks and Recreation Department invites you to its annual Fourth of July Celebration. Entrance is free to the public and the event will be located at Tustin High School Stadium at 1171 El Camino Real. Entertainment starts at 6:30 pm and the nighttime fireworks show will begin at 9:00 pm. The Tustin Boosters will have their snack bar open for snacks, drinks, and barbeque items. Bleachers will be available and blankets are recommended for those wishing to sit out on the grass to enjoy a picnic dinner with family and friends. For more information, please call the Parks & Recreation Department at (714) 573-3326 or visit www.tustinca.org.
Irvine Police Association – 29th Annual Concert on the Green and Fireworks Festival: Come to the Irvine High School Stadium to enjoy a pyro musical sky concert and fireworks extravaganza by pyro spectaculars. The event will feature a food court, live music by The Derek Bordeaux Group, kids' activities, and a color guard presentation by the Irvine Police Department. Tickets are $14 for adults 14 and older, while seniors 60+ and children 13 and under are just $9. All children under the age of 2 are free for admission. Family tickets for 2 adults and up to 4 children will be available in advance for $45. Gates open at 3:00 pm. For more information, please call Vince Palazzolo at (949) 724-0488 or visitwww.irvinepa.org.
Anaheim Hills – 25 Years of Celebration: Firecracker Run 5k/10k 5:30 am-10:00 am, pancake breakfast 8:00 am-10:30 am, and Yankee Doodle Dog Show 10:00am each take place at Canyon High School at 220 S. Imperial Hwy. The Food Booths 12:30 pm-8:45 pm, Entertainment 3:00 pm-8:45 pm, and the fireworks show starting at 9:00 pm are each at Peralta Park at 115 N. Pinney Dr. The Fourth of July parade will start at 3:00 pm at Canyon High School and end at Peralta Park. For more information, visitwww.canyonhillscommunitycouncil.org.
City of Yorba Linda – 4th of July Spectacular: Join the City of Yorba Linda as it celebrates the Fourth of July with family activities and a fireworks show. Entrance is free to the public and the event can be captured from one of two locations: Veterans Park at 4756 Valley View Ave. and Yorba Linda Middle School at 4777 Casa Loma Ave. Festivities will start at 5:00 pm with the fireworks show at 9:00 pm. The event will feature DJ entertainment, food vendors, and a children's area for face painting. For more information please call (714) 961-7160 or visit www.ci.yorba-linda.ca.us.
Silverado Canyon – 4th of July Unparade: Silverado Canyon is celebrating the Fourth of July with a mini "un-parade" at noon, followed by a family picnic, talent show, silly games and contests with local live music. Unparade starts at noon at the Silverado Community Center at 27641 Silverado Canyon Rd. Family festivities begin at 1:00 pm and continue until dark.
Modjeska Canyon – 4th of July parade: The annual Fourth of July parade of resident floats, classic cars, kids on bikes and horseback riders, including cowboy singer Rusty Richards, will take place at Tucker Wildlife Sanctuary. Parade begins at 11:00 am. Hot dogs will be provided by Station 16 firefighters immediately following the parade.