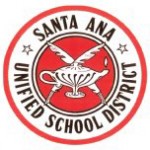 A study by Education Trust-West, an Oakland-based organization focused on issues faced by minorities and low-income youths, determined that African American and Latino ninth-grade students from the Class of 2010 heading to college trailed white and Asian students by up to 30 percent. The rates for low-income students were similar, according to the O.C. Register.
Out of the nine schools in Santa Ana Unified that served high proportions of Latino students, two – Saddleback High and Valley High, had graduation rates and college-going rates under the state averages, according to The Orange County Register's review of the same state data. 

Five schools fit the "not college bound" category, meaning the high school graduation rate exceeded the state average but the college-going rate did not. The remaining two schools fit the college pipeline category, the data showed.
The SAUSD "has a partnership program with Santa Ana College and Cal State Fullerton designed to increase college-going rates and high school graduation rates. Students enter the partnership program, dubbed Santa Ana ¡Adelante!, in the sixth grade and are guaranteed admission to the community college and later CSUF if all the requirements are met. The program offers assistance to students through a network of high school counselors and outreach staff from Santa Ana College and CSUF."
My own personal experience with this is that the SAUSD counselors did a great job advising my son Joey, when he was at Godinez High School.  He graduated with the highest GPA in the entire district and then registered at UCLA, where he is excelling.  However, as seen above, his experience is not the norm for many students in Santa Ana.
Students like my son have attended the SAUSD's fundamental schools, which have higher expectations including a parental involvement mandate.  I camped out on a sidewalk years ago, with my wife, to ensure a spot for my daughter at the John Muir Fundamental Elementary School.  My son was able to attend after her because of their sibling rule.  My 9 year old is now at that same school and he is in the GATE program and is a member of their Math Club.  We have no doubt that he will go to college.  My daughter already completed a degree in Fashion Design at the prestigious FIDM school and is now working in design at The Gap. 
But what about the kids in town who come from poorer families or whose parents may not speak English well or have time to go to school meetings?  We also have many households in town headed up by single moms. 
I know many immigrants who have established themselves here and are coaching their kids through school.  But this community is also one that often has trouble navigating our public education system. 
When I ran for the SAUSD School Board back in 2010, I noticed that at the time the SAUSD was not offering their website in other languages.  They changed that after I complained.  But I continue to notice that the district has difficulty reaching out to Spanish speaking contituents.  And the district's website includes school pages that are often way out of date.  Just last night my wife tried to find out what supplies our 9 year old will need and not only was that information not on the Muir Fundamental page, but the site was two years out of date!
The SAUSD still resorts to calling parents and leaving automatic voice mails.  They have no system to communicate with families via text messages or emails.  And unlike many other districts in the County, parents cannot look up their children's grades online or their absences.  The SAUSD is well behind the times on such technical matters despite spending a huge chunk of their budget on IT personnel and a huge public relations department.
And while I have personally met many great teachers at the SAUSD I have also run into a few older teachers who are obviously burned out.  In the meantime excited new younger teachers often get laid off and many of them get so frustrated that they end up quitting the profession.
There is certainly room for improvement at the SAUSD – in terms of communicating with parents and engaging students who far too often fall through the cracks.  The irony is that employers in this state are always looking for educated bilingual professionals.  The students at the SAUSD who start out with limited English fluency would have a great life ahead of them if the district could help more of them to learn English and get into college instead of dropping out of school.
The one question we have to ponder is how is the SAUSD using their resources – our tax money?  Many folks in town worry that the money is being wasted too often on administrators and middle managers and not getting into the classroom.