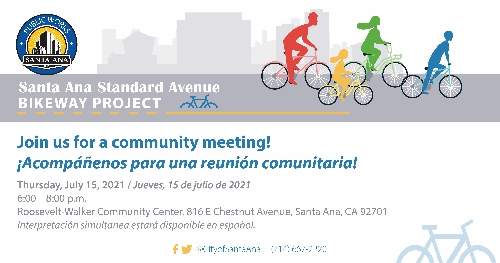 Santa Ana neighborhoods are invited to an in person Community Meeting with the City of Santa Ana Public Works Agency to learn about the designs details for the Standard Avenue Bikeway project. The meeting details are as follows:
Thursday, July 15, 2021
6 p.m. to 8 p.m.
Roosevelt-Walker Community Center
816 E Chestnut Avenue, Santa Ana
The City of Santa Ana is moving forward with the final design of the Standard Avenue Bikeway Project. This project will provide approximately two miles of bike lanes on Standard Avenue between Third Street and Warner Avenue. This is one of the 11 projects selected by the community under the Central Santa Ana Complete Streets Plan and aims to promote safe bicycling and walking conditions through the City. We value your attendance at the meeting to learn about the planned aspects and overall benefits of the project, and provide feedback on the design concepts.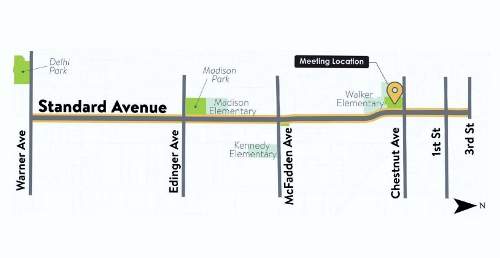 Spanish translation will be available. For more information, please contact the project helpline at (714) 667-2220 or should you have questions, please contact Public Works Agency Community Liaison Michelle Micallef at (714) 647-5091 or mmicallef@santa-ana.org.
Translations: 
Reunión comunitaria: Proyecto de carril bici de Standard Avenue
Cuộc họp Cộng đồng Nhắc nhở: Dự án Đường đi xe đạp Đại lộ Tiêu chuẩn