Earlier this month the new conservative majority on the Orange Unified School District's Board of Trustees shocked parents and other stakeholders when they placed their Superintendent, Gunn Marie Hansen, and Cathleen Corella, the district's assistant superintendent of education, on leave. This was done with one day's notice during winter recess.
Tonight's OUSD School Board Meeting figured to be well attended as they were going to settle on a contract with interim Superintendent Edward Velasquez, who has been working without a written agreement since he was appointed following the departure of Hansen and Corella.
The meeting was interrupted when the building had to be evacuated when smoke was seen apparently coming out of the air vents.
The Orange Fire Department responded and apparently the issue was resolved as the meeting was restarted.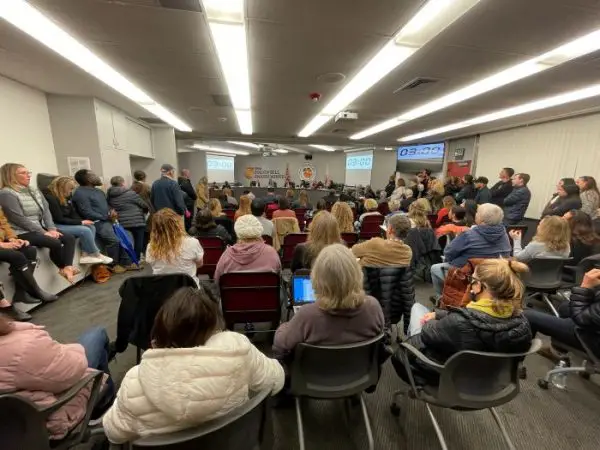 Orange Unified became the second district in Orange County to fire its leader in a month. Just before Christmas, the new right wing majority on the Capistrano Unified School Board fired their long-time Supt. Kristen Vital Brulte by a 4-3 vote.
Why are all these conservative, Republican Trustees firing their School Superintendents? They seem to be operating on principles that include "parents' rights" and complaints about face masks and school closures during Covid as well as classroom instructions on race, critical race theory in particular, and gender.
Many of the Hispanic families in the Orange Unified School District are complaining that low-income schools are not receiving enough funding and that test scores have dropped for several years.
Will the new Trumpy School Board majority in Orange do anything to help the lower income families in their District or will they focus on issues that are barely pertinent to educating the children in Orange?
The OUSD School Board did appoint a Latino, Edward Velasquez, to serve as their interim Superintendent. He was retired but opted to help out the OUSD. He is set to to initiate a review or audit of the district's instructional and educational programs, "after discussion and direction from the Board at a duly-noticed Board meeting." He will only be paid $49,000, at his request, so as to not conflict with his existing pension.