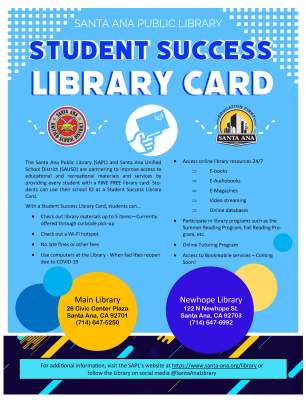 Santa Ana, CA – In an effort to promote the love of reading and support academic success for all students, the Santa Ana Unified School District (SAUSD) and the Santa Ana Public Library (SAPL) are partnering to allow every child attending a Santa Ana school to check out materials and access Bookmobile services offered by SAPL. 
As part of the program, which was recently approved by the SAUSD Board of Education, students will be able to check out up to five books at a time, and will have access to SAPL online databases, e-books, e-audiobooks, video streaming, and e-magazines.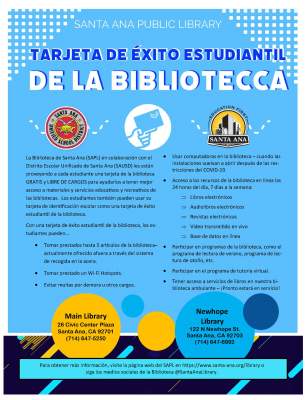 SAPL has a juvenile book collection of over 120,000 copies and over 100,000 e-books for all ages. Additionally, students will be able to check out DVDs and CDs.
Overdue fines or other fees will not be charged on any materials checked out with the Student Success Library Card. Also, SAPL will waive existing fines/fees if students already have a card in order to give them a new library card, and a fresh start.  Parents/guardians that wish for their child not to receive a special privileges Student Success Library Card, may opt out by completing the following form by Dec. 14: https://permission.click/4KP1b/us