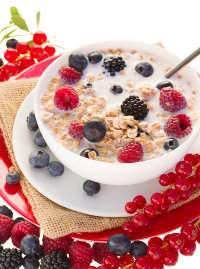 California School Districts Vie for $40,000 in Prizes in got milk? Breakfast Challenge
Individual students can win up to $1000 via social media
SAN CLEMENTE, Calif. –The California Milk Processor Board (CMPB), the creator of got milk?, has partnered with 15 school districts across the Golden State to present its seventh annual Breakfast Challenge to launch the new school year and remind students to fuel up with the most important meal of the day. Studies have shown that eating breakfast helps students do better in mathematics and school overall. Breakfast also boosts vitamin intake, helping increase energy and focus.[1] The Breakfast Challenge, which runs from August to October, encourages daily breakfast consumption with milk at school through a friendly competition between school districts. The school in each district (or group of districts) with the greatest increase in breakfast participation will win $3,000 towards student activities.
"Research shows that students who eat a healthy breakfast are more attentive in the classroom and do better in school," says registered dietitian, Dr. Wendy Bazilian. "And feeding our students breakfast with milk is key to supporting their success."
The 15 participating high school districts in the 2014 got milk? Breakfast Challenge are:
Northern California: Oakland Unified, Sacramento City Unified, Stockton Unified and Modesto City Schools
Central California: Fresno Unified, Central Unified and Clovis Unified
Southern California: Huntington Beach Union, Santa Ana Unified, Fontana Unified, Palm Springs Unified, Coachella Valley Unified, Desert Sands Unified, Sweetwater Union and Vista Unified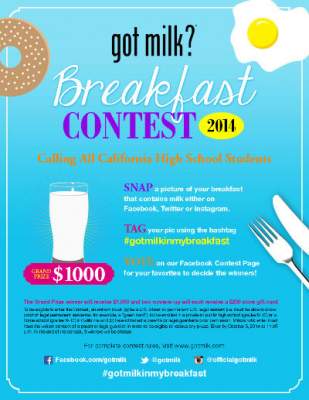 During the three-week challenge period, each participating campus aims to encourage its students to eat breakfast with milk at school and track the participation results. At the end of the three weeks, the campus with the greatest increase in breakfast participation in its district will win $3,000.
2-2-2 Got milk? Breakfast Challenge
"We want to make eating breakfast fun while inspiring young people to form healthy habits," says Steve James, executive director of the CMPB. "This challenge allows rival schools to compete against each other, while instilling the messages of proper nutrition with milk."
This year got milk? has included another opportunity for California teens ages 13 to 18 to participate in the Breakfast Challenge via social media. Got milk? wants students to post pictures of their breakfast with milk either on Facebook, Twitter or Instagram and tag the image using the hashtag #gotmilkinmybreakfast. At the end of contest, three winners will be selected from the photos with the most votes on the Facebook contest page. The Grand Prize winner will receive $1,000 and two runners-up will each receive a $200 store gift card.
For more information on the got milk? Breakfast Challenge, social media contest and easy breakfast recipes visit: www.gotmilk.com. Follow got milk? on social media: www.facebook.com/gotmilk, Twitter @gotmilk and Instagram @officialgotmilk using hashtag #gotmilkbkfast to keep up with this year's challenges and results.
About the CMPB
The California Milk Processor Board was established in 1993 to make milk more competitive and increase milk consumption in California. Awareness of got milk? is over 90% nationally and it is considered one of the most important and successful campaigns in history. Got milk? is a federally registered trademark that has been licensed by the national dairy boards since 1995. The CMPB's Spanish-language campaign began in 1994 using the tagline "Familia, Amor y Leche" (Family, Love and Milk). The TOMA LECHE (Drink Milk) campaign replaced it in 2006, following a growing trend in Hispanic food advertising that uses wit and humor to reach audiences. Got milk? gifts and recipes can be viewed at www.gotmilk.com and www.tomaleche.com. The CMPB is funded by all California milk processors and administered by the California Department of Food and Agriculture.
# # #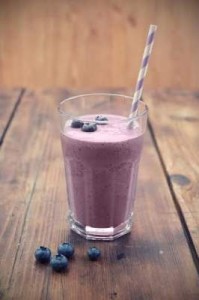 PURPLE POWER SMOOTHIE
Serves 4
Ingredients:
8 ounces frozen blueberries
1 tablespoon lemon juice
1 tablespoon honey
1 ½ cups 2% milk
Pinch of ground cardamom
Directions:
Take the blueberries out of the freezer 30 minutes before using.
Mix the blueberries in a blender with the lemon juice, honey, and milk. Add a sprinkle of cardamom before serving.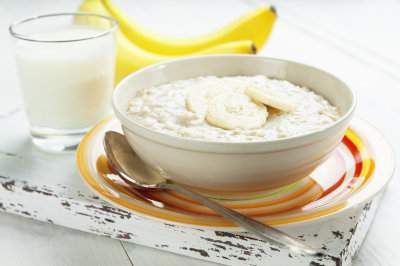 PEANUT BUTTER BANANA OATMEAL
Serves 4
Ingredients:
2 cups old-fashioned oatmeal
4 cups fat-free milk
Pinch of salt
4 tablespoons peanut butter
2 bananas, sliced
Directions:
Combine the oatmeal, milk and salt in microwave-safe bowl and give a quick whisk.
Microwave on high for 3 to 5 or until all milk is absorbed. Add the peanut butter, banana and mix gently. Microwave for another minute and serve. Add more milk if too thick.