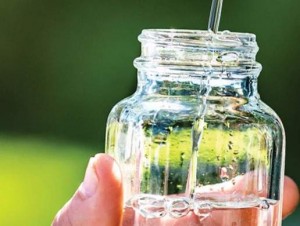 City of Santa, Downtown Orange County
Community Alert: Santa Ana's Water Ranked Nation's Best Tasting On Tap

SANTA ANA, CA (March 5, 2014) – The City of Santa Ana announced today it received the prestigious distinction of producing the best tasting and highest quality tap water in the nation. The City received the gold award in the "Best Municipal Water" category at the Berkeley Springs International Water Tasting Festival, an accredited competition that attracts water submissions from all over the world each year.
"We are thrilled to receive the nation's top honor in our category this year and continue a strong record of high quality, award winning water," commented Councilmember Vince Sarmiento, who also serves on the Orange County Water District's (OCWD) Board of Directors.
The medal adds to the city's collection of awards, surpassing its bronze and silver medals from 2011 and 2012.
"Earning recognitions year after year validates the stringent standards we set for our tap water, which are above and beyond the drinking water health standards required by both state and federal agencies," added City Manager David Cavazos.
These standards are outlined in the 2013 Water Quality Consumer Confidence Report, which will become available in May at santaanaccr.org. Residents who prefer a print report can call 714-647-3320 or email info@SantaAnaCCR.org,.
Santa Ana's tap water comes primarily from the vast groundwater basin under northern and central Orange County, one of the largest in Southern California providing most of the water needs for 2.5 million people in Orange County. The City of Santa Ana works closely with the OCWD, which manages the groundwater basin, to ensure water is not only high in quality, but also reliable and plentiful.
"It is not a simple task to maintain a reliable and safe drinking water supply. It requires a large investment in infrastructure and resources, including high quality staff," adds William Galvez, Interim Executive Director of Public Works. "This recognition would not be possible without the team at Santa Ana's Water Resources Division who are dedicated, certified specialists committed to serving our customers."
More than 100 people and water officials from the U.S. and abroad attended the water tasting festival last month in Berkeley Springs, West Virginia. Touted as the "Academy Awards of Water," the competition is the largest and longest running water tasting in the world dedicated to preserving and protecting drinking water.
Ten media judges spent hours tasting water from among nearly 100 different sources in 18 states, three Canadian provinces and 12 foreign countries. Waters were tasted in four separate flights over a period of two days. Similar to a wine tasting, judges rated the water for each attribute including appearance, aroma, taste, mouth feel, and aftertaste.
For more information about Santa Ana's water, visit www.SantaAnaCCR.org. For more information about the Berkeley Springs International Water Tasting, visit www.BerkeleySprings.com.
####
For full details, view this message on the web.