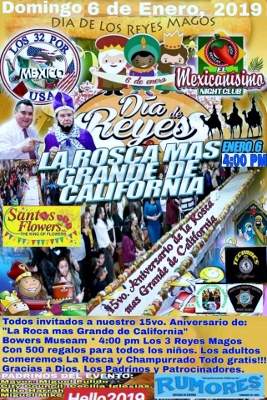 Santa Ana's largest Rosca de Reyes celebration is set for this Sunday, January 6, at 4 p.m. at the Bowers Museum. This is a free event and there is no need to RSVP!
This event will include:
500 free gifts for the children
Champurrado and the delicious Rosca de Reyes bread
The Bowers Museum is located at 2002 N. Main St., in Santa Ana, just north of 17th St. and south of the 5 Freeway.
This event is sponsored by Los 32 de Mexico, El Mexicanisimo and Santos Flowers.
From Wikipedia:
Rosca de reyes (ring of the kings) is a Spanish pastry traditionally eaten to celebrate Epiphany. Rosca de Reyes , the roscón de reyes generally has an oval shape due to the need to make cakes larger than 30 cm (12 inches) across for larger parties. Recipes vary from country to country. For decoration, figs, quinces, cherries or dried and candied fruits are used.
It is traditionally eaten on January 6, during the celebration of the Día de Reyes (literally "Kings' Day"), which commemorates the arrival of the three Magi or Wise Men. In most of Spain, Spanish America, and sometimes, Hispanic communities in the United States, this is the day when children traditionally get presents, which are attributed to the Three Wise Men (and not Santa Claus or Father Christmas).