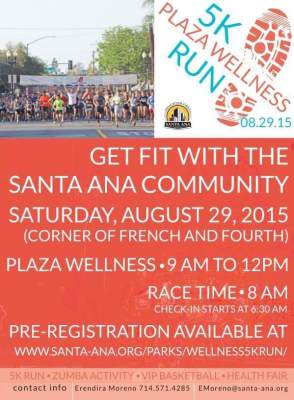 City of Santa Ana, Downtown Orange County
Community Alert: SECOND TIME FOR 5K RUN AT SANTA ANA'S HISTORIC DOWNTOWN
The public is invited to attend the City of Santa Ana's free Plaza Wellness celebration on Saturday, August 29, 2015 in Downtown Santa Ana at French and Fourth Street from 8am to 12pm. Plaza Wellness has something for everyone including a Health Fair, VIP Basketball game and Zumba activity.
Plaza Wellness will begin promptly at 8am with a free 5K race. The scenic route highlights some of Orange County's most historic and recognizable buildings including the Old Courthouse, Spurgeon Tower, and the Second Street Promenade. This year's course also heads out to the Santa Ana Stadium.
Free, on-line registration is available at www.santa-ana.org/parks/wellness5Krun/. On-line registration will close on Wednesday, August 26th. Same-day, on-site registration will be available starting at 6:30 am on the day of the race. Everyone is encouraged to register on-line for an opportunity to receive a free t-shirt while supplies last. Post-race refreshments and healthy snacks will be provided to all race participants.
"I am excited that we are making this a great Santa Ana tradition. Last year, at our first Downtown 5K, we had 700 runners. We anticipate over 1,200 runners this year," enthusiastically commented Councilmember Roman Reyna.
Free parking will be available at the Fiestas Market Place parking structure located at 5th and Spurgeon and also at the Santa Ana Regional Transportation Center located at 1000 E. Santa Ana Blvd.
For more information or to register for the 5K, please log onto www.santa-ana.org/parks/wellness or contact Erendira Moreno at (714) 571-4285.