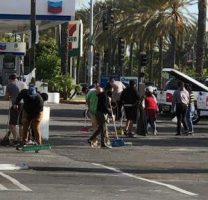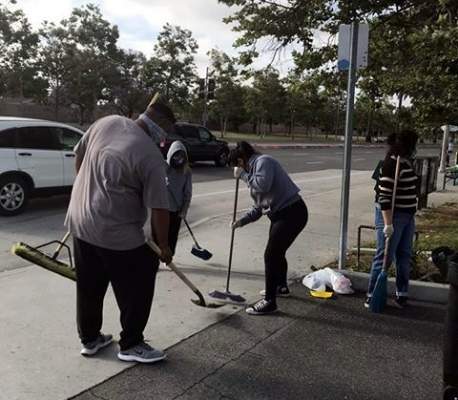 After a night of civil unrest and senseless property damage, it is our very own Santa Ana community that has come out early this morning to help with the clean up efforts, along with City of Santa Ana crews and local business owners and their employees, according to the SAPD's Twitter account.
The rioters last night threw rocks and other projectiles and set off fireworks and then they started looting stores. There were hundreds of them and I am not at all sure that they were all from here in Santa Ana.
I was out walking north on Main St. last night, at about 11 p.m., heading north past the Discovery Cube when dozens of cars, perhaps as many as 100, passed by me driving at high speed, running red lights, with people hanging out the vehicle windows. I am certain these people were out of towners heading to Santa Ana to cause trouble. There was not a cop in sight as they were all deployed elsewhere.
Residents and community members were joined in the cleanup this morning by Santa Ana City council members Juan Villegas, Vicente Sarmiento, Phil Bacerra and David Penaloza, according to the Voice of OC. Cecilia Iglesias, the City Council Member who was recently recalled, was also there.
The riots are likely far from over. Many retailers have permanently closed while weathering this storm.
For Santa Ana the riots are a total disaster as our city struggles to recover from the ongoing pandemic.