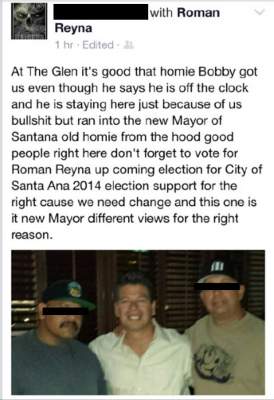 Picture Courtesy of the Santa Ana Police Officers Association
October 14, 2014
COUNCILMAN ROMAN REYNA
SANTA ANA CITY COUNCIL
20 CIVIC CENTER PLAZA
P.O. BOX 1988, M31
SANTA ANA, CA 92701
Dear Councilman Reyna,
I write on behalf of the Santa Ana Police Officers' Association, its Board of Directors and Political Action Committee.
It has come to our attention that you, along with two other men, recently posed for a photograph that was posted on Facebook. We find it very disturbing that you posed with these men. Both are known to Orange county law enforcement as being affiliated with Santa Ana criminal enterprises. Furthermore, the individual believed to have posted the photograph identified you in his post as the "the new Mayor of Santana old homie from the hood…"
We are aware many friends can be called a "homie" and people do identify themselves as living in or being from the "hood". These words alone should not produce a negative opinion of another person. However, when coupled with a photograph of known members of a Santa Ana criminal enterprise, and posted on an Internet social media website, we feel that far exceeds mere poor judgment. As a city policymaker, this photograph and comments presents the appearance and perception of your lack of ability to be a trustworthy and effective community leader.
Accordingly, we feel that it is important you formally respond to this issue and the negative reaction your decision has caused. Please respond in writing addressed to "Members of the Santa Ana Police Officers' Association,"
1607 N. Sycamore, Santa Ana, CA 92701.
Sincerely,
JOHN FRANKS
PRESIDENT
SANTA ANA POLICE OFFICERS ASSOCIATION
JF/rr
Enclosure
cc:
Mayor Miguel Pulido, City of Santa Ana
 Mayor Pro Tem Sal Tinajero, City of Santa Ana
 Councilmember Vincent Sarmiento, City of Santa Ana
 Councilmember Michele Martinez, City of Santa Ana
 Councilmember Angelica Amezcua, City of Santa Ana
 Councilmember David Benavides, City of Santa Ana
SANTA ANA POLICE OFFICERS ASSOCIATION
1607 NORTH SYCAMORE
SANTA ANA, CALIFORNIA 92701-3513
[714] 836-1211
FAX [714] 836-6108