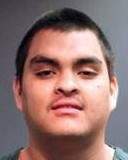 Imagine what might happen if you shot at police officers? Oscar Freddie Torres, a 19-year-old Santa Ana gang member, now is facing the consequences for doing just that. He pleaded guilty on Tuesday to grossly negligent discharge of a firearm because he allegedly opened fire on SAPD police officers that were responding to a domestic dispute, according to the O.C. Register.
Torres accepted a deal in return for his guilty plea that dropped attempted murder charges. He also admitted to sentencing enhancement allegations for the personal use of a firearm and criminal street gang activity.

The judge dismissed two counts each of attempted murder on a peace officer and assault with a weapon not a firearm on a peace officer.
Torres is scheduled to be sentenced Jan. 13. His life is pretty much over at this point. Torres, a "self-admitted/documented gang member" will do his time and then will have a heck of a time finding a good job after he is released. He will pay for what he did for the rest of his misbegotten life.
SAPD police officers responded to a family disturbance at a residence at the 400 block of South Hesperian Street just before 4:45 p.m. on Aug. 13, according to the SAPD.
When the SAPD police officers arrived, Torres opened fire in their direction multiple times. Fortunately he was a terrible shot and he missed the police officers. He was doubly fortunate in that the police officers chose not to return fire. Then, like most of the cowardly gang members in Santa Ana, Torres ran away. He was later arrested at his nearby home.