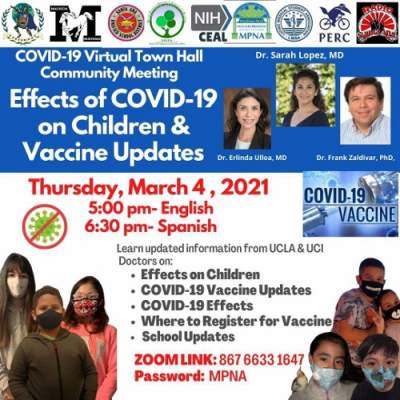 Santa Ana residents are invited to join a COVID-19 Virtual Town Hall Community Meeting regarding COVID-19 effects on Children and Vaccine Updates with Dr. Frank Zaldivar and Dr. Sarah Lopez!
Thursday, March 4, 2021 5 p.m. English | 6:30 p.m. Spanish
Please join the virtual meeting via Zoom
Zoom ID: 867 6663 1647
Passcode: MPNA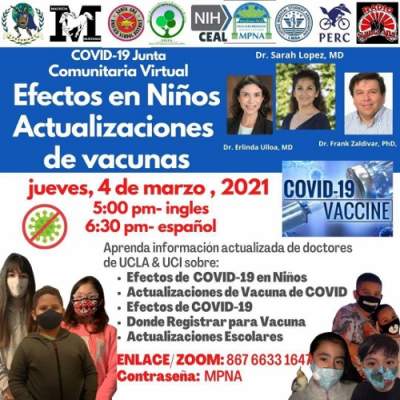 Junta Comunitaria Virtual de COVID-19
¡Los residentes de Santa Ana están invitados a unirse a la Junta Comunitaria Virtual de COVID-19 sobre los efectos del COVID-19 en los niños y las actualizaciones de las vacunas con el Dr. Frank Zaldivar y la Dra. Sarah Lopez!
Jueves, 4 de marzo de 2021 5 p.m. Inglés | 6:30 pm. Español
Únase a la reunión virtual a través de Zoom
Enlace de Zoom: 867 6633 1647
Contraseña: MPNA