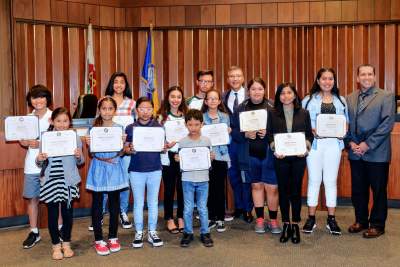 City of Santa Ana, Downtown Orange County
Community: Santa Ana Announces Winners Of The 2018 Youth Water Poster Contest – Posters Now On Display At City Hall
Santa Ana, CA — Mayor Miguel A. Pulido and the entire Santa Ana City Council celebrated the winners of the 2018 Youth Water Poster Contest at a special awards ceremony yesterday. The ceremony, which was attended by the winners and their family members, was held during the council's monthly meeting in the City Council Chambers.
"We congratulate the 12 outstanding young artists who won this year's contest for their creative accomplishments," said Councilman Vicente Sarmiento who presented a certificate to each winner. "And we thank Santa Ana School District and our judges for their participation in making this year's contest such a success. Our annual contest offers parents and their children the opportunity to explore various water-related themes such as the health benefits of drinking water, water conservation and water quality."
Tram Le, Arts & Culture Specialist for the City of Santa Ana, Elizabeth Cardenas from Art for Change, and Alicia Rodriguez, COO of the Delhi Center, served as this year's judges. Out of more than 400 entries, they chose 12 winning posters: 2 finalists and a grand prize winner in four different age categories. They used four scoring criteria: level of originality, visual and word clarity, and adherence to this year's theme "Fill It From The Tap!" illustrating why drinking tap water over bottled water is safer, more affordable, and better for the environment.
A special reception with food and refreshments followed the awards ceremony, where winners were awarded their prizes, ranging from gift certificates and Nintendo 3DS XLs to iPads. During the reception, a special drawing was held for teachers with 10 or more student entries.
"The success of our annual contest, which is an important educational initiative for the City, relies on our partnership with the Santa Ana Unified School District," adds Nabil Saba, Water Resources Manager for the City of Santa Ana. "As an expression of our appreciation, we introduced a special drawing for teachers who actively encouraged student participation in the contest."
Winning posters will be on display at City Hall, 20 Civic Center Plaza, through March 31, and featured in the annual Water Quality Report to be published this spring. The posters will also be highlighted on the City website and on handouts, which will be distributed at community events throughout the year.
Winners of the Santa Ana Water Youth Poster Contest are as follows:
Ages 5-8 Finalists:
-Johann Bay (Santiago Elementary)
-Christalyn Mascarenas (Jim Thorpe Elementary)
-Grand Prize Winner: Nayeli Luis-Martinez (Lowell Elementary)
Ages 9-12 Finalists:
-Matthew Bay (Santiago Elementary)
-Sarai Santiago (Lowell Elementary)
-Grand Prize Winner: Briana Moreno (Madison Elementary)
Ages 13-14 Finalists :
-Elena Arechiga (Lathrop Intermediate)
-Stephanie Lopez (Lathrop Intermediate)
-Grand Prize Winner: Deborah Sanchez (Lathrop Intermediate)
Ages 15-18 Finalists:
-Monica Rodriguez (Godinez High School)
-Julisa Julian (Saddleback High School)
-Grand Prize Winner: Alberto Rodriguez (Saddleback High School)
Additional information about the City of Santa Ana's Water Conservation program is available online at santa-ana.org/conservation. For more information about the contest and awards ceremony, email conservewater@santa-ana.org or call (714) 647-3500.
About the City of Santa Ana Public Works Agency:
The City of Santa Ana Public Works Agency, with its four divisions and professional staff of more than 200 employees, is responsible for the city's infrastructure and quality of life. The agency builds and maintains all public streets, storm drains, sewers, and water facilities, as well as coordinates refuse collecti on and recycling, street sweeping, public right-of-way landscaping, and graffiti removal.
Through the agency's Water Resources Division, it ensures the community enjoys high quality drinking water. It also ensures the community is able to travel around the city efficiently through the use of a state-of-the-art traffic management system, and collaboration with neighborhood associations and developers to resolve speeding, parking, and traffic problems.
Contact: Nabil Saba, Water Resources Manager (714) 647-3378.