On November 23, 2020, an elderly couple was home babysitting their infant grandchild when an unknown person entered their house through an open bedroom window.
The suspect ransacked the master bedroom and stole a large amount of cash, before slipping back out the window undetected. Garden Grove Police Department officers responded to take a report and was able to recover fingerprints from the window. During the investigation, detectives identified the suspect as Noah Cole, an 18-year-old resident of Garden Grove.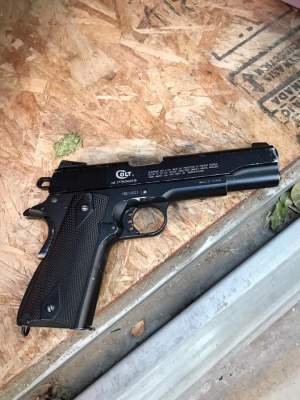 This Tuesday, December 1, 2020, officers on patrol were flagged down in the area of Bowen St. and Westminster Ave. for a robbery that had just occurred.
The victim had been home alone when a person entered his house and robbed him at gun point, before forcing him outside and attempted to steal his car.
The suspect ran from the scene and was observed by officers as carrying a black handgun. Once a perimeter was set up, containing him within, the suspect ran back into the victim's home and barricaded himself. As the incident progressed, the suspect was found to be Noah Cole, who was wanted for the earlier cat burglary.
After a hours-long standoff where he continued to refuse to surrender, #K9Vader was deployed to help apprehend the suspect. The gun was located and determined to be an airsoft, replicating a genuine firearm.
Cole was later booked into Orange County Jail and charged with robbery, kidnapping, attempted carjacking, resisting/delaying arrest, brandishing a replica firearm, and multiple counts of burglary for both incidents.
Detectives believe Noah Cole may have been involved in additional crimes. Anyone with information on these incidents is asked to contact Det. Holloway at 714-741-5827.