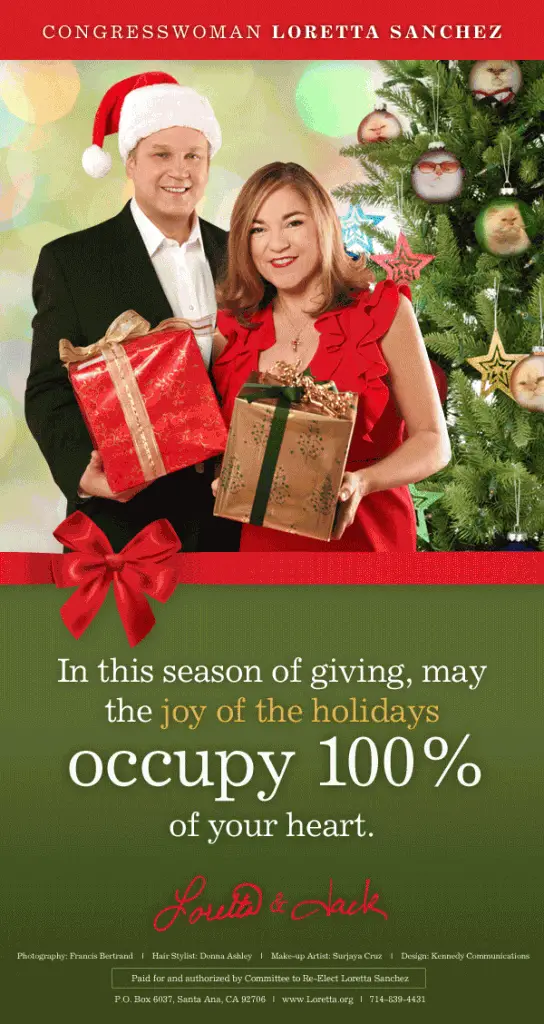 PRESS RELEASE, FOR IMMEDIATE RELEASE: Dec. 16, 2011
Contact: Adrienne Watson,  317-430-4611 / adrienne.e.watson@gmail.com
SANCHEZ REVEALS 2011 HOLIDAY CARD TO FRIENDS AND SUPPORTERS
Washington, DC — Congresswoman Loretta Sanchez is proud to unveil her 2011 Holiday Card. The famous card was sent electronically to Loretta's friends and supporters, who for the first time were able to vote for the theme of the card. Thousands of ballots were marked online and voters chose by an overwhelming percentage to be surprised.
Entitled "New Friends and Old," the card depicts Rep. Sanchez and her new husband Jack Einwechter in front of a Christmas tree. The tree's ornaments are decorated with the face of Loretta's late cat Gretzky.
"I'm proud to introduce my new husband Jack to my friends and supporters," said Sanchez. "I'm also glad we have found a way to include Gretzky in my card, even after his passing. Thank you to all who participated in the online poll. I hope this holiday card gave you a chuckle and I can't wait to see what you suggest next year. Soon I will be asking friends and family to vote on my new pet. Happy holidays!"
See card above.