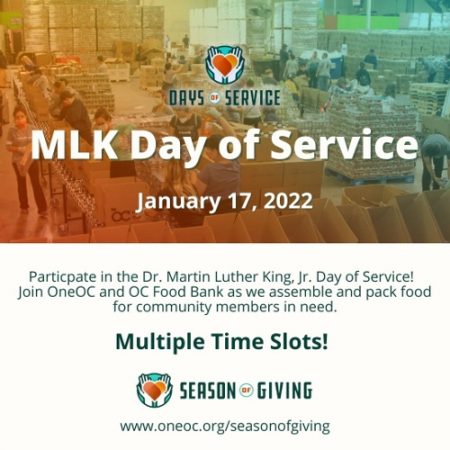 OneOC is still in need of volunteers for the upcoming MLK Day of Service event on January 17th at the OC Food Bank. Click here to sign up for this volunteer opportunity.
In a typical year, the food bank distributes more than 23 million pounds of food. In June 2020, we have increased the pounds of food distributed by 59% compared to this time last year. In August 2020 we acknowledged serving 1 million people affected by the economic downturn caused by COVID-19 and we anticipate the need will continue to grow.
Community members can make their "day off" a "day on" with a Day of Service. Join us to celebrate the life and legacy of Dr. Martin Luther King, Jr. through meaningful service!
This is a high-energy project where volunteer "Packing Partners" will…assemble and pack food boxes, working side-by-side (while socially distanced) as a sign of unity and equality, which will be delivered to seniors in need throughout the Orange County community.
Please know volunteers will need to wear a mask during their shift. Gloves are optional and hand sanitizer will be available.
REQUIREMENTS: Age Minimum (with Adult): 5+, Minimum Age:18+
MLK Day is one of OneOC's four National Days of Service throughout the year. It gives the community an opportunity to celebrate the life and legacy of Dr. Martin Luther King, Jr. through meaningful service. Individuals, families, groups, and organizations can easily participate in this national initiative! Click here to explore available volunteer opportunities.
OneOC's Days of Service are four national volunteer days that unite individuals, families, service clubs, businesses, schools, and faith-based organizations in volunteerism throughout the year. OneOC connects nonprofits with volunteers to projects, helping increase nonprofits' capacity to do more good in the community. Join us on our next signature event!
Anyone can participate in the Season of Giving. Join us this November through January by giving back to support our local nonprofits through live service projects and virtual opportunities including wish lists such as in-kind and monetary donations. Set your intentions for the new year and plan ahead for MLK Day 2022.
The Season of Giving (SOG) gives the community an opportunity to provide support or consideration for others during the holiday season. Nonprofits, companies, families, service clubs, etc., will come together to share the importance of giving.