For Immediate Release
Santa Ana Media Summit: Changing the Narrative
At the Santa Ana Media Summit: Changing the Narrative, our community will explore how the media covers Santa Ana and what we can all do to share our stories
The Santa Ana Media Summit: Changing the Narrative will bring together local print, radio, blog and social media reporters, editors and experts who will introduce community and business attendees to media and public relations topics such as How to Get Press Coverage, Latino Media, and how topics like crime and gentrification impact the narratives about Santa Ana and what we can do about it.
The Media Summit will occur Wednesday, April 13, 2016 from 8:30 a.m. to 4:00 p.m. in Santa Ana's Downtown Artist's Village, which will open historic buildings and art spaces as a multi-venue downtown campus.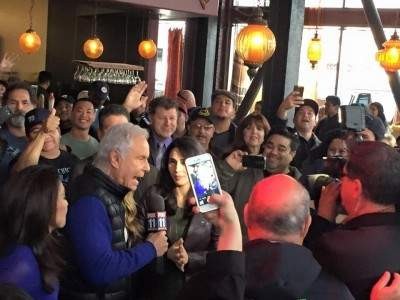 Attendance is free and open to the public and includes catered breakfast, nine panel/workshop sessions to choose from, and a closing mixer, all within easy walking distance around the Downtown Santa Ana Artist's Village Promenade. Attend as many sessions as you like, but make sure to RSVP at www.santaanamedia.org because seating is limited.
"This is an unprecedented event to ​explore Santa Ana's relationship to the media," said Media Summit co-coordinator, Madeleine Spencer. "We believe that media has the capacity to construct narratives that can empower our city to move forward and work together."
Representatives from The Los Angeles Times, Hoy, KPCC, El Aviso, Miniondas, Voice of OC, Stay Connected OC, the City of Santa Ana, social media experts, and many more will join panel discussions and workshops. Speakers will be revealed closer to event date.
The Media Summit was established to meaningfully connect community, build media literacy, and affect our ability to access, produce and interact more with local and regional media.
Capacity is limited to the first 200 people. Attendance is free. Sign up to reserve your seat at www.santaanamedia.org.
###
Media Contact: Madeleine Spencer, Co-Coordinator, Santa Ana Media Summit 2016
Phone: (714) 815-2653, Email: spenc110@mail.chapman.edu