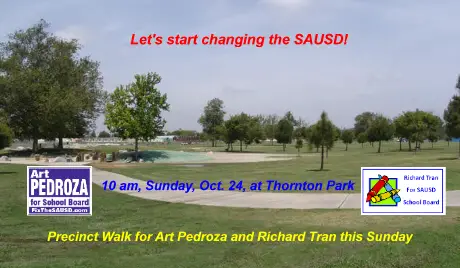 The Art Pedroza for the SAUSD School Board campaign is joining forces this Sunday, Oct. 24, with Richard Tran, a SAUSD teacher who is running a write-in campaign.  He got so frustrated with the corruption and ineptitude of the SAUSD administration, and SAUSD President Audrey Yamagata-Noji, that he recently resigned.  Click here to learn more about his write-in campaign.  Tran will be at our precinct walk along with his many supporters.
We will be meeting at 10 am at Thornton Park, in the parking lot, at 1801 W. Segerstrom, which is located between S. Raitt and S. Bristol. Click here for a map.
Please feel free to walk flyers for other candidates you are supporting, such as our local legislative and city council candidates.
Click here to read the rest of this post.