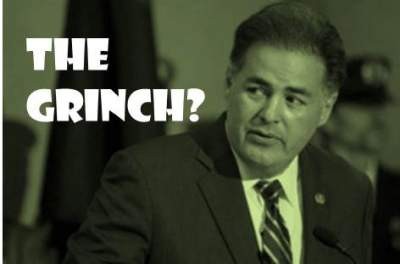 Santa Ana City Manager David Cavazos was known for nickle and diming the residents of Phoenix when he worked in that city. We warned Santa Ana's City Council that he would do the same thing here but they hired him and overpaid him anyway.  Now our predictions are coming true, sad to say.
This time Cavazos wants to increase public parking fees in Downtown Santa Ana (DTSA).  "He is working to convince city officials and merchants that higher rates would benefit the city," according to the O.C. Register.
In downtown Santa Ana, meter rates are 75 cents an hour. Parking garages charge $1 per hour, $7 per day and $40 per month. To Cavazos, it's mind-boggling that the nearby Health Care Agency parking structure charges $4 an hour while the city's meters charge 75 cents and off-street parking facilities charge $1 per hour.
Huntington, Newport and San Clemente charge $1.50 an hour for metered parking.  So of course Cavazos wants to double the hourly public parking fee in Santa Ana.
Cavazos has drafted what he calls a wish list of downtown amenities the city can fund by increasing downtown meter parking to $1.50 and parking garage rates to $2 per hour, $12 a day and $60 a month.
In return for screwing the local residents and consumers of DTSA's services and entertainment, Cavazos is promising that the revenue would go toward "parking garage and alley improvements, additional police officers, a downtown map and guide, and a downtown and Civic Center shuttle."
In our opinion this doubling of public parkings will keep locals out of DTSA and discourage out of town residents from visiting our Downtown.  For comparison's sake, Downtown Fullerton offers more than 2,500 free public parking spaces supporting more than 350,000 square feet of retail and more than 275,000 square feet of office space, and Downtown Orange offers plenty of free parking as well.
[cardoza_wp_poll id=20]