As Santa Ana police detectives try to make sense of the melee that led to Kim Pham's death, the investigation is running into a wall of silence. Pham's friends have failed to come forward. One flatly refused to meet with law enforcement, despite pleas from the police, according to the L.A. Times.
Police Commander Tim Vu, the highest-ranking Vietnamese-American law enforcement officer in Orange County, says distrust of the government is still common among refugees who arrived in the area after the Vietnam War, according to CBS.
Nevertheless additional facts are beginning to trickle out:
Kim Pham had just gotten a job at Nordstrom and wanted to celebrate
Her father, Dung Pham, told the L.A. Times that he immigrated to the U.S. from Vietnam in November 1991. His daughter was just 1 then, but soon, at age 5, she would experience heartbreak with the loss of her mother to breast cancer.

Pham graduated from Chapman University with a degree in psychology. A year ago this month, she married. Her husband studies business at UCLA, living in Los Angeles and returning home on weekends.

Ken Nguyen, a volunteer who acts as Santa Ana's liaison to the local Vietnamese community, said at least eight Vietnamese American youths were with Pham in the early hours of Jan. 18, waiting to celebrate a birthday at The Crosby, a trendy Santa Ana nightspot.

One of Pham's friends, who was not in the crowd that night, said the fight may have started after the victim unintentionally stepped into another group's photo.

Nguyen said Pham's ex-boyfriend, who was in her entourage, tried to rescue her from her attackers but was pulled away by a bouncer. (If that is true and that bouncer worked for The Crosby, the hipster bar that Pham was waiting to get into when she was attacked, then The Crosby could be in huge trouble and could face a giant civil lawsuit).

A new

fundraising website

has been launched to help the Pham family to gather funds to pay for legal fees.
Unbelievably the folks in the Artists Village are planning to have their regularly scheduled Art Walk in February.  They really need to cancel that out of respect to Pham.
Can you blame Pham's friends for not talking to the SAPD when temp Police Chief Carlos Rojas is running around saying that this wasn't a hate crime even though it obviously was?  In fact you have to wonder why the Orange County Human Relations Commission has not gotten involved in this case yet.  Here is what the OC Human Relations Commission reports about hate crimes on their website:
What Is A Hate Crime?
California Penal Code section 422.55, defines Hate Crime as being a criminal act committed, in whole or in part, because of one or more of the following actual or perceived characteristics of the victim: Disability, Gender, Nationality, Race or Ethnicity, Religion, Sexual Orientation, or association with a person or group of persons with one or more of the preceding actual or perceived characteristics.
Examples – painting racist, homophobic and/or religious graffiti on private property; burning a cross on an individual's lawn; an assault; a criminal threat of violence against an individual or group; attempted murder or murder.
A bias related incident is behavior that is motivated by hate or bias towards a person's actual or perceived disability, gender, nationality, race or ethnicity, religion or sexual orientation but that is not criminal in nature. Typically these behaviors are protected by the First Amendment right to freedom of expression.
If this type of activity escalates to threats being made or carried out against a person or property, or becomes an incitement to commit violence it would be classified as a hate crime.
Examples – the distribution of non-threatening racist flyers in a public place; displaying non-threatening anti-gay or lesbian placards at a parade or funeral; writing a letter to the editor ridiculing people with disabilities; painting racist graffiti on a freeway overpass.
A hate crime or incident may have occurred if any of the following were present:
There was a perception that the victim was targeted because of their race, gender, sexual orientation, nationality, religion etc.
The perpetrator wrote or spoke in a manner that indicated bias.
The date of the incident or crime coincides with a date that is of significance to the victim's religion, nationality, ethnicity etc.
To report a hate crime or learn how to fight hate in OC, email James Armendaris at 714-567-5117.
You can bet that if a gay man had been stomped to death in Santa Ana the OC Human Relations Commission would have been screaming about it being a hate crime from day one.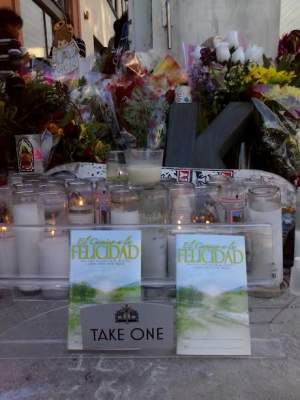 A memorial of flowers, photos, candles and notes now stands at the site where Pham was beat unconscious in a senseless attack and later died from her injuries, according to the OC Weekly.  In a bizarre twist the local Scientologists appear to be trying to benefit from the publicity (see the picture above).