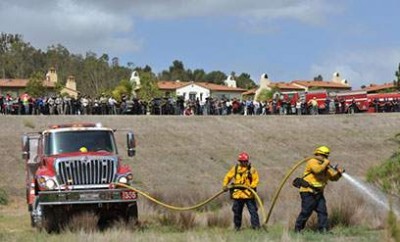 OC Residents Need to Be Wildfire Aware
By: Orange County Supervisor Todd Spitzer
On Wednesday, the Orange County Fire Authority (OCFA), Orange County Sheriff's Department, OC Parks, and several other agencies and organizations held a press conference urging Orange County residents to be fire aware.
"Our recent drought has caused California to enter a state of emergency, due to the risk of wildfire," said Supervisor Todd Spitzer, also an OCFA Director. "We've had a number of dry months with a miniscule amount of rain, so as we enter our hotter months, Orange County is at great risk from the severe wildfire conditions."
Orange County homeowners are urged to harden their homes with fire resistant building material. Residents need to ensure they have 100 feet of defensible space around their homes to increase the odds of their home surviving a wildfire. They should have emergency kits and know what to do if a wildfire reaches their neighborhood, including knowing the evacuation routes. More information about what residents need to do to prepare in case of a wildfire is available at www.readysetgooc.org.
Orange County residents need to be the "eyes and ears" for firefighters in case of a fire. Residents need to be vigilant and immediately report any potential fire activity to 911. Unfortunately, some wildfires are started by arsonists. Vigilant residents can help prevent arson fires by simply making their active presence known, making arsonists think twice about starting a fire with witnesses observing their dangerous criminal activity. Working together with community partners and residents, firefighters can help prevent fires and quickly contain new fires.