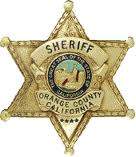 FOR IMMEDIATE RELEASE
Contacts: Lt. Jeff Hallock (714) 647 7042/Gail Krause, (714) 647-1840
Orange County DUI Task Force Arrests 12 DUI Suspects
SANTA ANA, CA – (August 27, 2013) – On Monday, August 26, deputies from the Orange County Sheriff's Department were successful in clearing a number of DUI warrants in several South Orange County communities. Deputies served warrants on individuals who failed to show up to court following their DUI arrest. Twelve individuals were arrested and booked into the county jail.
"The Task Force obtained 41 warrants for this event and moved in two teams through neighborhoods in the south county area," said Deputy Wayne Howard of the Orange County Sheriff's Department Traffic Bureau. "People were arrested at their homes and places of employment. We sent a strong message that if you don't show for court or follow the terms of your probation, we're going to come find you and take you to jail."
Law enforcement, the courts and the DMV did not have current address information for many of the suspects. "The DUI warrants will remain on file and the next time they are stopped for a traffic offense or have police contact we will arrest them and impound their vehicle," said Deputy Howard. "We remind anyone with pending court actions to handle their obligation and avoid this situation."
The Orange County DUI Task Force continues to partner with over 500 law enforcement agencies statewide during the Summer/Labor Day Holiday Campaign running through September 2nd. More warrant events are planned before the end of the year.
Funding for this program is provided by a grant from the California Office of Traffic Safety through the National Highway Traffic Safety Administration. For more information, visit the "Drive Sober or Get Pulled Over" Campaign Headquarters at www.TrafficSafetyMarketing.gov.
###