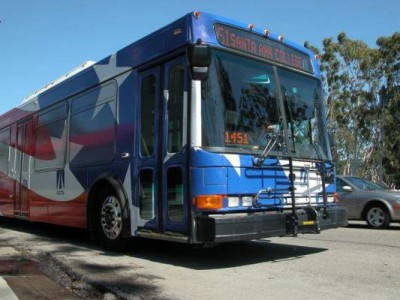 FOR IMMEDIATE RELEASE: May 30, 2014
FOR MORE INFORMATION: Joel Zlotnik (714) 560-5713; Eric Carpenter (714) 560-5697
OCTA Says 'Hello, Summer' With Return of Annual Youth Buss Pass
Pass holders can enjoy endless summer fun for just 65 cents per day
ORANGE – The Orange County Transportation Authority is ready to get summer started with the return of the perfect ride for youth 18 and under.
The $60 Summer Bus Pass provides residents with the opportunity to experience unlimited countywide bus riding on OCTA transit for a reduced rate from June 1 to Aug. 31.
In addition to unlimited service on fixed-route buses, pass holders will also enjoy discounts on more than 20 entertainment destinations throughout the county, including Boomers, Medieval Times and the Discovery Science Center.
The three-month pass can be purchased online at www.octa.net/summer, at the OCTA store located at 550 S. Main St. in Orange, by calling (714) 560-5932 or at your local Orange County Ralphs, Vons, Pavilions and Northgate Markets.
Pass holders can also enter the #octasummer photo contest for a chance to win weekly prizes, such as iTunes gift cards and OC Fair prize packages. The contest runs from June 1 to Aug. 31 and winners will be selected at random each Monday.
For more information, visit www.octa.net/summer.
# # #