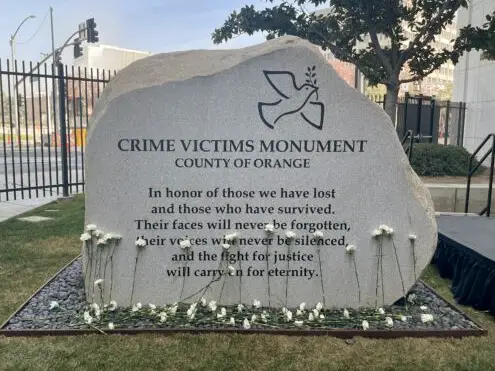 SANTA ANA, Calif. – The Orange County District Attorney's Office is hosting its 2022 Crime Victims' Rally on Monday, April 25, 2022 beginning at 10 a.m.
The event, held as part of National Crime Victims' Rights Week, is an opportunity to honor victims and listen to survivors tell their stories of how they are moving forward and reshaping their lives – and how they continue to fight for victims' rights.
2022 Orange County Crime Victims' Rally
We will never leave your side
Monday, April 25, 2022, 10 a.m.
Orange County Crime Victims Monument
District Attorney's Office Courtyard
300 North Flower Street, Santa Ana, CA 92703
In person attendance is restricted to invited guests and credentialed members of the media.
This year's speakers include:
Patricia Wenskunas, Founder/CEO of Crime Survivors, Inc.
Ronetta Johnson, Director, Waymakers
Jenner Silva, son of murder victim Eliu Gramajo who was killed on Father's Day in 2016. Mr. Silva will be accompanied by Senior Deputy District Attorney Janine Madera.
Carol, Samuel and Richard Gomez, mother and uncles of murder victim Jesse Gomez who was killed in 2018. The Gomez Family will be accompanied by Deputy District Attorney Harris Siddiq.
Lynette Duncan, daughter of Aubrey Duncan and sister of 18-year-old Denise Duncan who were killed in 1977. Her mother was also shot, but survived. Ms. Duncan will be accompanied by Senior Deputy District Attorney Marc Caress.
Orange County District Attorney Todd Spitzer
Pastor Simon Moon of Irvine Onnuri Church will perform the National Anthem.
The Association of Orange County Deputy Sheriffs Pipes & Drums Band will perform Amazing Grace.
The event will also be livestreamed on the Orange County District Attorney's Office Facebook page.
Any person who may protest the Crime Victims' Rally in person will be directed to a designated public space where true expression is welcome.