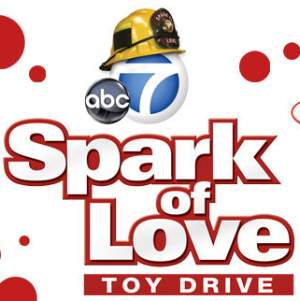 News Release, For Immediate Release
Subject: Toy Warehouse Needed in Orange County
Contact: Brenda Emrick at (714) 327-7406 or Lynnette Round at (714) 290-7772
Irvine, CA – The holidays are right around the corner and Santa Claus needs help now! Santa, in this case, are Orange County firefighters who, in conjunction with the Orange County Toy Collaborative, are in desperate need of a warehouse they can use to store and distribute toys to needy children throughout the county for their annual "Spark of Love"holiday toy drive.
The warehouse, currently used to store the toys, has been leased. The Toy Collaborative is now in dire need of a warehouse. The wish list for the donated warehouse should include the following minimum requirements:
Have an Orange County location, preferably east of the 55 Freeway.
Have 35,000 – 50,000 square feet of space.
Have a minimum of two loading docks, one for incoming and one for outgoing toys.
Have working restrooms.
Have electricity throughout the building to operate small office equipment.
Prefer a secure building with either a perimeter fence and/or automatic securityalarm system.
Minimum 12-24-month lease agreement.
The Orange County Toy Collaborative combines the efforts of the Orange County Firefighters' "Spark of Love" toy drive, the U.S. Marine Corps' "Toys for Tots" toy drive,Social Service Agency's "Operation Santa Claus" program, and the Orange County Society of St. Vincent de Paul holiday charities program.
Collectively, these campaigns receive and distribute an average of 300,000 toys annually for needy children and families throughout Orange County. All toy donations, monetary donations, and warehouse use is tax deductible through its 501(c)3 non-profit status, Federal I.D. Number 01152064; make sure to consult with a tax professional on this matter. You can call Dee Acevedo, the warehouse manager at(714)679-3738, or Brenda Emrick if you have a building for lease.
# # #
The 2012 Orange County Toy Collaborative:
U.S. Marine Corps Reserve Toys for Tots, Contacts: North OC: GySgt. Willie McClendon(657) 464-0029, Willie.McClendon@usmc.mil
Orange CountyFire Chiefs' Association, FPO Comm. Education Task Force, Contacts:Brenda Emrick, Costa Mesa Fire(714) 327-7406 Brenda.Emrick@costamesaca.gov
Thang Nguyen, Fullerton Fire(714) 738-3160 ThangN@fullertonfire.org OC
Social Services Operation Santa Claus, Contact: Mona Gustafson(714) 679-2438 Mona.Gustafson@ssa.ocgov
Society of St. Vincent de Paul, Orange County, Contact: Demetria Lee(714) 542-0448 Demetria@svdpoc.org