More than 50 homeless youth supported by StandUp for Kids – Orange County received new athletic shoes and socks at today's Standup for Kids event at Tewinkle Park in Costa Mesa. The shoes were donated by UnitedHealthcare of California. UnitedHealthcare's mission is to help people live healthier lives.
Los Angeles Chargers Linebacker Kenneth Murray, Jr., spoke to the students about overcoming challenges, pursuing their dreams, and recognizing that the community cares about their health and wellness.
Murray attended Elkins High School in Missouri City, Texas and he played football at the University of Oklahoma. As a freshman at Oklahoma in 2017, Murray started all 14 games, recording 78 tackles and one sack and was named the co-Big 12 Defensive Freshman of the Year. He again started all 14 games his sophomore year in 2018, recording 155 tackles and 4.5 sacks.[5][6] Following a junior year where he was named to the First-team All-Big 12. Murray announced that he would forgo his senior season to declare for the 2020 NFL Draft, according to Wikipedia.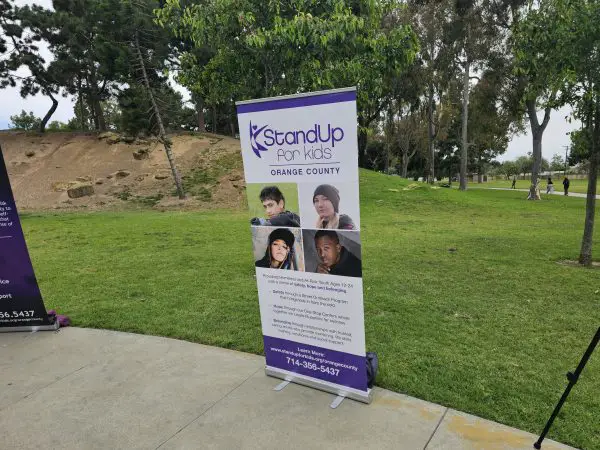 Murray was selected by the Los Angeles Chargers with the 23rd pick in the 2020 NFL Draft. The Chargers moved up from their second and third round selections in a trade with the New England Patriots to acquire the pick used to select Murray. Murray, 24, has played 44 games with 38 starts and has totaled 214 tackles, an interception, two sacks, two forced fumbles and six passes defensed, according to NBC.
Tami Adams, the CEO of United Healthcare of California and Lori Ann Farrell Harrison, the Costa Mesa City Manager, also spoke at the event.
In total, 100 sets of shoes and socks were provided for distribution to homeless teens in and around Orange County by StandUp for Kids.
StandUp for Kids serves unaccompanied homeless and at-risk youth – and young parents with children of their own – up to their 25th birthday. The organization's mission is to end the cycle of youth homelessness.