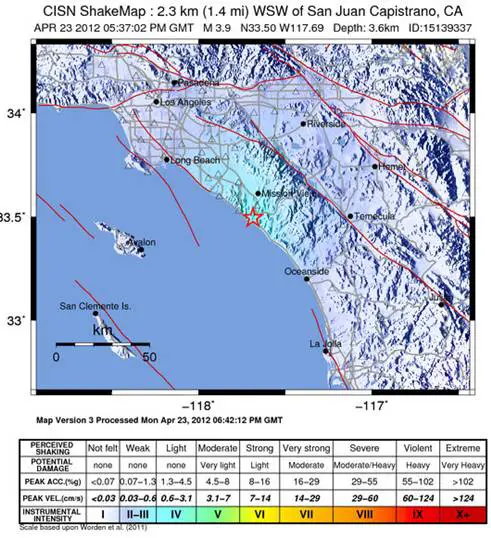 A 3.9 earthquake reported at 10:30 a.m., near San Juan Capistrano on Monday appears to have caused little if any damage, according to early reports, but residents said it left them rattled just the same, according to the Los Angeles Times.
If you live in Santa Ana, you probably felt it.   Here are this quake's distances, from the epicenter:
2 km (1 miles) W (259°) from San Juan Capistrano, CA
3 km (2 miles) NNE (14°) from Dana Point, CA
4 km (3 miles) SSE (159°) from Laguna Niguel, CA
13 km (8 miles) SSW (192°) from Mission Viejo, CA
23 km (14 miles) SSE (155°) from Irvine, CA
81 km (50 miles) SE (140°) from Los Angeles Civic Center, CA
Click here for an earthquake preparedness guide from the American Red Cross, Orange County Chapter.  Click here for the guide in Spanish.  Click here to check out the County of Orange Emergency website.