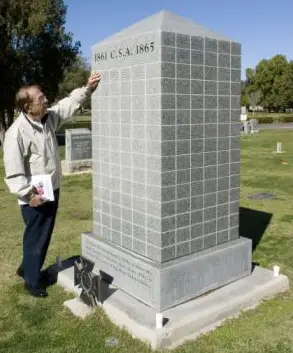 Gordon Bricken admires the Confederate Army memorial at the Santa Ana Cemetery
Picture by Joshua Sudock of the O.C. Register
Do you remember a guy named Gordon Bricken?  He was once the Mayor of Santa Ana.  The O.C. Register is reporting that Bricken has written a book about gravesites of conferate and union soldiers that can be found here in Orange County.
"His parents taught him to respect the history of the Civil War – to remember relatives who fought in battle, to know the stories of people killed and families uprooted. His mother once gave him a hand-sewn Confederate flag for his room," according to the O.C. Register.
Bricken is originally from Kentucky, which was a Southern slave state.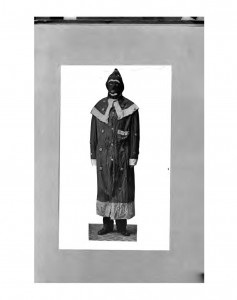 A member of the KKK helped create Orange County
The Register article treats this story with kid gloves.  In fact never once is slavery mentioned.  Nor does the article mention that members of the KKK were amongst the founders of Orange County, according to the O.C. Weekly.
The fact is, the Confederates were traitors and terrorists.  They are not heroes and are not to be celebrated.  Many if not most of them were racists – and they fought to defend the evil practice of slavery.
That these people settled in Orange County is something to hang our heads about, not something to relish.
Thankfully these sort of people no longer can get elected in Santa Ana.  We should be grateful for that.