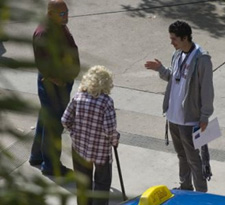 Members of the Orange County Bail Agents Association are not too pleased about bail bondsmen who have been soliciting business outside of the Orange County Central Men's jail.
"Newport Beach attorney Richard P. Herman filed a lawsuit on behalf of the Orange County Bail Agents Association on to stop these guerrilla marketeers and their aggressive solicitation outside jails and police stations," according to the Bail Bonds Monitor Blog.
That lawsuit was filed last year.  I don't know yet the status of the case.
I spoke to one of the legitimate bail bondsmen, Luis Mier, about this issue this week.  He said that it is illegal, according to a state law, for bail bondsmen to solicit business on the sidewalk.
Here is an excerpt from the state law in question:
Title 10 § 2079 – Soliciting of Bail; Persons

No bail licensee shall solicit bail except in accordance with Section 2079.5 and from:

(a) An arrestee;
(b) The arrestee's attorney;
(c) An adult member of the arrestee's immediate family; or
(d) Such other person as the arrestee shall specifically designate in writing. Such designation shall be signed by the arrestee before the solicitation, unless prohibited by the rules, regulations or ordinances governing the place of imprisonment. If so prohibited, it may be signed after release of the arrested to ratify a previous oral designation made by him.
Mier, who owns a bail bonds business located in Santa Ana, says that it is also supposedly illegal for the out of town bail bondsmen to solicit business on the sidewalk according to Santa Ana's civic code, but he can't get anyone at City Hall to enforce the law.
Mier visited City Hall this week.  He spoke to a clerk who said anyone can buy a soliciting license for $300.  Mier asked him if he would sell such a permit to a pimp.  The clerk said he would!  How disturbing.
Mier met this week with Assemblyman Jose Solorio to ask for his help in enforcing the state law against solicitation of bonds on city sidewalks.  I also suggested to him that he meet with State Senator Lou Correa.  Ultimately the State Insurance Commissioner, Dave Jones, needs to do something about these solicitors.  Hopefully Solorio and Correa will put some pressure on Jones to do something about this.
It is unfair to local businessmen like Mier for out of town bail bondsmen, from as far away as Riverside and San Bernardino, to come here to Santa Ana and illegally take their business away from them.