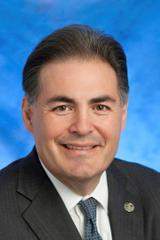 New Santa Ana City Manager Will Get Big Salary and Pension
By ADAM ELMAHREK, Voice of OC
In addition to more than $550,000 in compensation in the coming year from Santa Ana, new City Manager David Cavazos is also set to begin collecting a six-figure annual pension from Phoenix, according to a report in the Arizona Republic newspaper.
The 53-year-old Cavazos worked at Phoenix City Hall for 26 years and was city manager for the last four, which puts him in line for an annual pension of at least $130,000, which means that his income in the coming year will at minimum be close to $700,000 and perhaps significantly higher.
Cavazos also helped himself, both in terms of his pension and new salary, by negotiating last year for a controversial $78,000 pay raise. The Phoenix City Council agreed to the raise, which amounted to a more than 30-percent bump over his previous salary, because council members credited him with closing a massive budget shortfall and indicated they didn't want to lose him to another city.
But within months of receiving his raise, Cavazos was applying for the city manager opening in Santa Ana. So the raise not only increased the pension Phoenix taxpayers will pay him, but also allowed him to demand a $315,000 annual salary from Santa Ana taxpayers, which is more than the city has ever paid to its top bureaucrat.
Paul Walters, the city's previous city manager, was paid $265,000, plus benefits.
Click here to read the rest of this article.
[cardoza_wp_poll id=8]