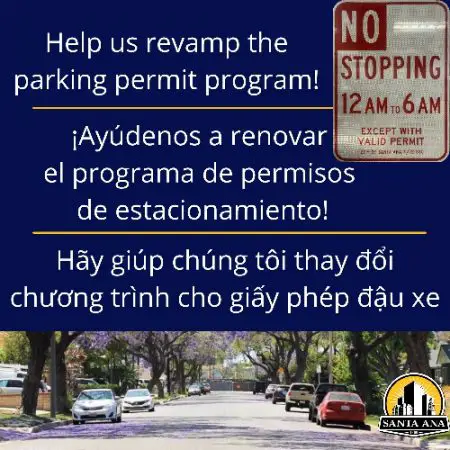 The City of Santa Ana Public Works Agency is revamping the permit parking program and they are seeking your input, comments, and suggestions to be included in the proposed "Scope of Work" that will define the new Residential Permit Parking Program for years to come.
The purpose of residential permit parking is to enhance the quality of life in the residential neighborhoods by reducing noise, parking congestion, traffic hazards and illegal activities. This is accomplished by limiting the number of street parked vehicles on a residential block within a permit parking district. Every effort is made to achieve this purpose with minimum impact on adjacent commercial establishments, residences, and institutions.
A permit parking district is a geographic area of the City established by resolution by the City Council. The resolution designates the boundaries of the permit-parking district, specifies the parking limitations that apply within the district and the parking permit qualification process.
After a need for permit parking has been investigated and confirmed by the City, or an interest form is requested and fulfilled, permit parking may be put in on a block-by-block basis through a City supplied petition. For a petition to pass, at least 66% of the affected residential property owners must indicate their support for permit parking on their block. The City will determine the adequacy of the petition in accordance with the City Code. Ineligible properties typically do not have the permit parking restriction placed along their frontage.
Residents are typically eligible for permits if they live on a qualifying block and in either of the following:
Single-family homes: Up to three parking permits. 75 guest permits per year, per home.
Multi-family family homes with two to four units per parcel: 1 parking permit maximum per dwelling unit and no guest permits.
Please contact the City at 714-647-5623 or email them at permitparking@santa-ana.org for more information and/or to set up a meeting for a presentation to your neighborhood.
Learn more about the Residential Permit Parking Program at https://www.santa-ana.org/pw/parking-permits.
Programa de Permiso de Estacionamiento Residencial
La Agencia de Obras Públicas de la Ciudad de Santa Ana está renovando el Programa de Permiso de Estacionamiento Residencial y queremos sus opiniones, comentarios, y sugerencias. Para programar una presentación en su vecindario o para obtener más información, contáctenos al 714-647-5623 o envíe un correo electrónico a permitparking@santa-ana.org.
Obtenga más información sobre el Programa de Estacionamiento con Permiso Residencial en https://www.santa-ana.org/pw/parking-permits.
Giấy Phép Đậu Xe ở Khu Dân Cư
Cơ Quan Công Chánh của Thành Phố Santa Ana đang thay đổi Chương Trình cho Giấy Phép Đậu Xe ở Khu Dân Cư và chúng tôi mong muốn nhận được ý kiến, góp ý và nhận xét của quý vị. Để sắp xếp một buổi thuyết trình cho khu phố của quý vị hoặc tìm hiểu thêm thông tin, vui lòng liên hệ với chúng tôi theo số 714-647-5623 hoặc email permitparking@santa-ana.org.
Tìm hiểu thêm về Chương Trình cho Giấy Phép Đậu Xe ở Khu Dân Cư tại https://www.santa-ana.org/pw/parking-permits.