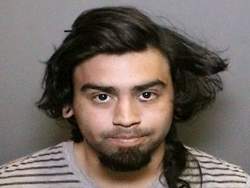 Juan Angel Rivera, a 22-year-old man, can face trial for stabbing a fellow concert-goer to death during a punk show at Underground DTSA , a downtown Santa Ana club, a judge ruled Wednesday, according to the O.C. Register.
Prosecutors are also going to pursue a murder charge against Rivera  in connection to the fatal March 3 fight  involving Rivera and Nathan Joe Alfaro inside the club.

Rivera's lawyer, a public defender, argued that Rivera was acting in self-defense during the two fist-fights he had with Alfaro that night at the club, the second of which allegedly ended with the stabbing murder of Alfaro.
The OCDA's prosecuting attorney, Keith Burke, then argued that there is evidence that Rivera may have provoked the second fight in order to get revenge against Alfaro.
Relatives of Alfaro attended all three days of the preliminary hearing. They said that the 23-year-old Westminster resident was "a hard-working college student, a self-taught musician and songwriter, and a fixture at Santa Ana music venues." They also said he was not someone who looked for trouble and that he was a peacemaker.
Rivera's brother and two of his friends testified that Rivera was trying to get a mosh pit going by dancing in a circle, bumping or pushing into other audience members. But they apparently didn't want to join in. Alfaro was one of the people that Rivera bumped into. This prompted a fist fight and concertgoers had to separate the two combatants.
A while later Rivera again tried to start a mosh pit. And he got into a second fist fight with Alfaro. This time Rivera ended the fight by stabbing Alfaro several times.
A friend of Rivera's, Eder Arroyo, admitted when he testified that he hid the knife used by Rivera, in his backyard. Arroyo, who was given immunity in return for his testimony, said that Rivera told his friends that he had stabbed Alfaro, but he claimed to have acted in self-defense.
The Judge, Peter L. Spinetta, initially wondered if there was enough evidence to try Rivera for murder, instead of manslaughter. The sticking point turned out to be whether Rivera's actions were premeditated or were self-defense.
Rivera is set to return to court later this month, on August 23.