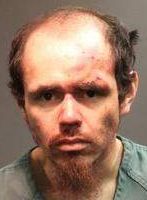 Joseph Anthony Perez, 27-years old, pleaded guilty and was sentenced on Monday to five years in prison for committing two bank robberies and two attempted stickups in Santa Ana and Fountain Valley in a three-day period, according to the O.C. Register.
Perez was out of custody for about two weeks when he began the bank-robbing spree. He was sentenced back on Feb. 10 to two years in jail for pleading guilty in September to burglary and grand theft charges.
Perez' criminal history started back in 2010 with a felony vandalism case that netted him three years' probation – which was eventually revoked.
Perez has had a slew of felony and misdemeanor convictions including receiving stolen property, graffiti vandalism, shoplifting, petty theft, possession of burglary tools and possession of stolen property.
Perez has been consistently misbehaving every year with four cases filed against him in 2014, two in 2015 and four last year.
Perez's recent crimes started on Feb. 25 at about 9:30 a.m., when he tried to rob the Bank of America branch located at 3730 S. Bristol St. in Santa Ana.
Perez got real busy on Feb. 27 starting with a bank robbery attempt at 11:15 a.m. at a Wells Fargo branch located at 1801 E. 17th St., but he failed to get any money, according to the SAPD.
Perez also attempted robberies that day at Bank of America branches at 16192 Harbor Blvd. in Fountain Valley at 12:05 p.m. and at 2015 W. First St. at 12:48 p.m. and at a Chase branch at 3600 S. Bristol St. at 2:52 p.m. He also held up a Bank of the West branch at 3931 S. Bristol St. at 3:13 p.m.
Perez did not notice that a teller at the last bank he held up put a tracking device in with the cash he stole. Police investigators were able to track Perez down to the Chipolte Mexican Grill restaurant located at 3713 S. Bristol St. But he was able to get away by dumping the tracking device under a car.
Police however finally Perez walking on Bristol Street. He tried to run away but caught a short time later.