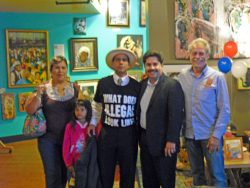 I visited Rueben Martinez' bookstore, Libreria Martinez, at its new location, on 216 N. Broadway, just north of the Santora Building, on the West side of the street.  Martinez recently reopened at tha location.
The store is a delight!  It served yesterday as the site of Assemblyman Jose Solorio's Election Night party.  There was a lot of food and cold drinks available, and a couple of cakes.  It was a festive evening.
The store has a great selection of novels, magazines and children's books.  Their Chicano studies area is superb! 
You will also enjoy all the artwork in the store and the friendly surroundings.  Be sure to vist them soon!