City of Santa Ana
Community Alert: "Landfill Harmonic" On Historic Calle Cuatro
EXCLUSIVE SCREENING OF "LANDFILL HARMONIC" ON SANTA ANA'S HISTORIC CALLE CUATRO
Final Film in OCCTAC's Latino Music Film Series at Frida Cinema!
Orange County Children's Therapeutic Arts Center (OCCTAC) Fresh off the film festival circuit, "Landfill Harmonic – A Symphony of the Human Spirit" will be screened on Sunday, February 7 at 2 p.m. at The Frida Cinema, located on Santa Ana's historic Calle Cuatro at 305 E. 4th St., Santa Ana, CA 92701.
Orange County Children's Therapeutic Arts Center (OCCTAC) is proud to present this exclusive screening in collaboration with The Frida Cinema. This is the third and final film in OCCTAC's Latino Music Film Series, presented with grant assistance from the Santa Ana Arts & Culture Commission, which funds projects and special events with the intent of enriching and invigorating the Santa Ana arts and culture landscape.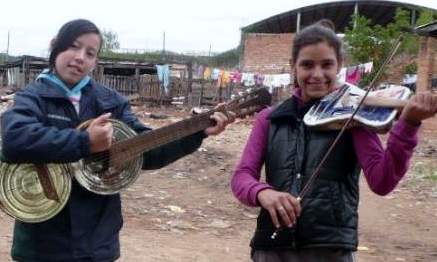 ABOUT THE MOVIE
Landfill Harmonic is a documentary about the transformative power of music and the resilience of the human spirit told through the lives of a garbage picker, a music teacher and a group of children from a Paraguayan slum that out of necessity started creating instruments entirely out of garbage. The film follows the Recycled Orchestra of Cateura, a Paraguayan musical youth group of kids that live next to one of South America's largest landfills. When their story goes viral, the orchestra is catapulted into the global spotlight. With the guidance of their music director, they navigate this new world of arenas and sold out concerts. However, when a natural disaster devastates their community, the orchestra provides a source of hope for the town. Rated PG, in Spanish with English subtitles.
TICKETS: Tickets to this exclusive screening are only $5 adult general admission and free for children 12 and under. All proceeds from ticket sales will be donated to OCCTAC to support OCCTAC's new Classical Music Program. To purchase, visit the Frida Cinema Box Office, located at 305 E. 4th St. Santa Ana. CA 92701. Open 4pm-11pm weekdays and opens at 11am on Saturdays. Tickets can be purchased through the link on the Facebook event page.
ABOUT OCCTAC
OCCTAC is a Santa Ana, CA based non-profit (501c3), organization that offers a wide variety of music, art, and dance classes to children and youth of limited resources. The mission of OCCTAC is to provide innovative, artistic, educational and therapeutic programs that inspire and transform children, at-risk youth, and their families to fulfill their highest potential. Founder & Director Dr. Ana Jimenez-Hami is a recognized advocate for Orange County families, at-risk youth and children with special needs. For more information, see www.occtac.org or call (714) 547-5478.
ABOUT THE FRIDA CINEMA
The Frida Cinema serves Santa Ana and neighboring communities as an arthouse cinema, dedicated to enriching, connecting, and educating communities through the art of cinema. For more information about The Frida Cinema, see www.thefridacinema.org or contact Logan Crow, Logan Crow, Executive Director/Programming/Rentals at (323) 428-7411.