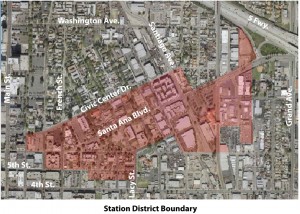 Santa Ana's Lacy Neighborhood Association is having a "Neighborhood Meeting" on Wednesday, October 21, at 6:30 pm, at Garfield Elementary School at 850 E. Brown St.  The item of discussion will the proposed "Station District" development.
Here is the invitation issued by the City of Santa Ana:
Please join us for a community discussion about the future of the area near your neighborhood. The "Station District" design and development team selected by the City of Santa Ana will be seeking your ideas and input for the development of the vacant land along Santa Ana Boulevard, and the preparation of an enhancement strategy for the surrounding area.
For more information, contact Neighborhood Association president José Leal, at (714) 315-0283; or Scott Kutner of the City's Community Development Agency, at (714) 667-2259.  And click here to see a map of the Station District.