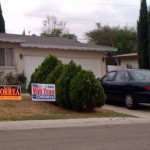 Sometimes a picture says it all.  The picture above was taken at a Vietnamese household in Garden Grove.  I suspect that before long we will see more Viet households supporting both Van Tran and Lou Correa.
While it is true that Congresswoman Loretta Sanchez has pandered overtime to the Viet voters, she is quickly losing them to Tran.  Correa, on the other hand, is holding onto them.

Now take a look at the video above, which I found on the OC Weekly, Sanchez is interviewed in Spanish about her campaign.  She speaks the language OK, but had to relearn it as an adult, and it shows.  Even worse, she appears to throw Obama under the bus, and she attacks the Viet community.  It is in Spanish, so here is my translation:
Sanchez talks about how the Republicans are working very hard.  The interviewer then asks her if she is blaming President Obama.
She says that obviously he isn't helping her.  She goes on to say that many Latinos and Democrats are hurting financially, and she is not sure if they will vote.  She then says that the Vietnamese and the Republicans are intent on taking her congressional seat and giving it to the anti-Latino and anti-immigrant Van Tran.
The interviewer then says aren't you Democrats to blame for not reforming immigration?
Sanchez answers by saying that if her party keeps control of the House of Representatives, then they will do something about immigration.  But then the interviewer interjects, saying you guys have not done anything so far.
Sanchez responds by saying that if her party loses, then there will be no immigration reform for 10 to 20 years. If her party wins, she says, then there will be reform in November or December.  It sounds like extortion to me.
So the interviewer says that his viewers are thinking that she and her party will just break another promise.
Then he asks why she won't debate Tran.  She responds by saying that she will debate him but in October, not now, as she is very busy in Congress.
Lastly, the interviewer asks if the Democrats push for more taxes will cause them to lose in November.  Sanchez responds that it depends on the intensity of the Democrats.  She said that when we voted for Obama we had hope for change.  She mentions bank and credit card, and healthcare reform.   Then she says that if the Democrats lose they will lose all of that.
Then the interviewer says, are we better off now than two years ago?  Of course she says, especially Latinos.
Really?  On the one hand she says Latinos won't vote because they are hurting financially, then she says that we are better off now than we were two years ago.  Those statements are incongruous.
By the way, is it just me or does she look a bit goofy in the video?  She sort of looks like Mr. Magoo, the way she is squinting!