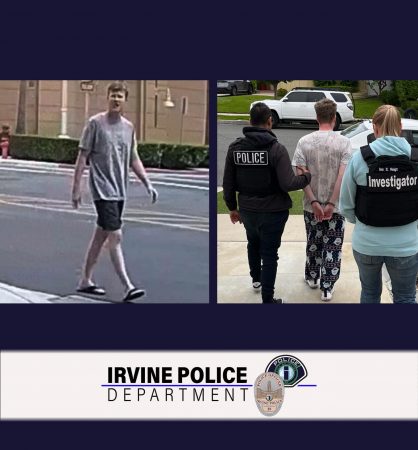 Brandon Dybdahl, 23, of Beaumont (in the Inland Empire), was convicted on Wednesday of groping a woman in Irvine as she was walking near the University of California Irvine campus. He was convicted of misdemeanor charges including false imprisonment and sexually battery.
Dybdahl is scheduled to be sentenced Nov. 20 at the Harbor Justice Center in Newport Beach.
On Saturday, June 10, 2023, Dybdahl committed a sexual battery against a female adult in the area of Scholarship and Graduate.
Dybdahl was seen in a surveillance video as he followed the victim before restraining and groping her from behind. He fled from the scene in a white Nissan Sentra vehicle.
At the time Dybdahl was described as a male white with reddish/brown hair, 5 feet 10 inches to 6 feet tall, approximately 160 pounds, possibly in his early 20's, wearing a gray short sleeve t-shirt with black shorts, and black flip flop sandals. Detectives believed he was driving an unknown year white Nissan Sentra 4-door vehicle, with a spoiler.
Dybdahl was arrested at a residence in Laguna Hills for the sexual battery that occurred near Graduate and Scholarship, in Irvine. The vehicle seen in the surveillance video was in his possession when he was arrested.
Dybdahl was reportedly homeless at the time of the attack and he was living with a friend in Laguna Hills. The friend had no idea what Dybdahl was doing in his spare time.