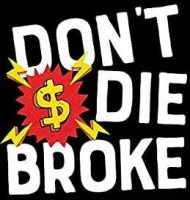 We get requests just about daily from our readers here in Santa Ana to post GoFundMe pages on our Facebook page because a loved one has passed away and the family is stuck with medical bills to pay or has no money to pay for the funeral.
We all are going to die at some point. To avoid having to scramble to pay these bills all you have to do is buy term life insurance. For a very low monthly cost your family will receive the face value of the insurance policy if you die.
There are many ways to figure out how much this will cost. For example you can click here to use Fidelity's Term Life Insurance calculators.
A healthy 30-year-old male can expect to pay an average cost of $26 a month for a 20-year policy with a $500,000 coverage amount, according to Policygenius.com.
I personally have about $400 thousand dollars in term life plus a million dollar policy at work. My wife will be set if I die. (Don't tell her as that might shorten my life!).
Another way to reduce your medical bills at the end is to sign up for the City of Santa Ana's Paramedic Subscription Program. For $60.08 a year the City of Santa Ana will agree to pay for all emergency medical services provided in the Santa Ana service area. Charges can range from $300 to in excess of $1,000 depending on the services provided if you don't subcribe to this program.
Lastly I advise you to consider either setting up a will in advance or a living trust. Don't leave your family a mess to deal with if you suddenly pass away! There is an attorney right here in Santa Ana who can set up a living trust starting at $895, which is a good deal. A living trust is a legal document, or trust, created during an individual's lifetime where a designated person, the trustee, is given responsibility for managing that individual's assets for the benefit of the eventual beneficiary, according to Investopedia.