A 14-year-old girl who darted across a Santa Ana street in front of traffic was hit by two vehicles, and both drivers left the scene. One of the drivers has been arrested, but police are still searching for the other driver, according to ABC News.
A witnessed followed him from the scene and called police; he was arrested. The driver was identified as Adan Camacho, 32, of Santa Ana. He was booked into jail for felony hit-and-run and driving without a valid license, according to KTLA News.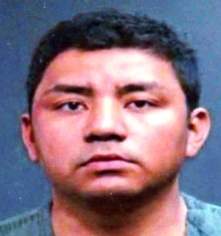 The teen was crossing against the light on her way to Santa Ana College, and  multiple lanes of traffic had the right-of-way when she was hit, according to  Santa Ana Police Department Cpl. Anthony Bertagna, according to KTLA News.
"She crossed against the red … Obviously he didn't see her. She jetted out in  front of him," Bertagna said.
Officials said a Good Samaritan followed one of the fleeing drivers while calling 911.
"[We're still looking for] the driver of the black vehicle. Gets out…goes over, looks like she makes contact with the pedestrian, and then leaves," Santa Ana police Officer Weston Hadley said, according to CBS News.
Anyone with information on the crime is asked to call the SAPD at (714) 245-8665.