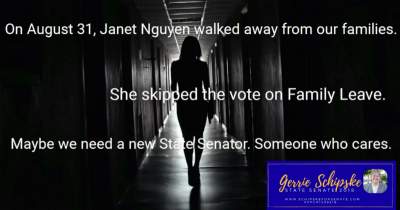 Gerrie Schipske Says Nguyen Should Be Ashamed For "Walking Out on Families"
Long Beach, CA — Gerrie Schipske, the Democratic candidate for the 34th State Senate District, today blasted Republican Janet Nguyen for "walking out on families when she failed to vote for SB 63, 'The New Parent Leave Act'." Schipske is running to unseat Republican Janet Nguyen.

"The New Parent Leave Act ", which was signed into law by Governor Brown on October 12th, ensures that more California workers who have been paying into the Paid Family Leave insurance program are able to take up to 12 weeks of job-protected leave to care for a new child.
"Janet voted for several other bills the same day this crucial legislation came to the Senate floor," noted Schipske. "But she refused to vote for families. She should be ashamed."
"Families need a State Senator who cares about their lives," Schipske continued pointing out that families are struggling to work often several jobs and to raise their children and shouldn't have to choose between the wellbeing of their new child and their family's financial security. "This important legislation will give them the protection they need to care for their newborns. Janet should have stood up for our families by voting for this legislation."
Gerrie Schipske was born in Long Beach and raised in Orange County where she attended Fullerton and Golden West colleges as well as the University of California, Irvine. She represented Long Beach's 5th District, much of which overlaps Senate District 34, on the City Council for eight years. In 2013, President Barack Obama's White House named her as one of seven "Champions of Change for Open Government."
Schipske is a healthcare and ethics attorney, a registered nurse practitioner, and a faculty member at California State University Long Beach. She was elected to the Long Beach Community College Board of Trustees, and she was the first registered nurse appointed by the Senate Rules Committee to the Medical Board of California where she served 9 years. Schipske was also one of the first members of the Orange County Human Relations Commission, and a member of the KCET public television community board. She also served as the Assistant Director of the Youth Development Program in Santa Ana, and as the Executive Director of the Democratic Party of Orange County.
About Senate District 34
Includes: all or portions of the cities of Anaheim, Fountain Valley, Garden Grove, Huntington Beach, Long Beach, Los Alamitos, Orange, Santa Ana, Seal Beach, and Westminster. Democrats hold a 10% advantage in voter registration over Republicans here, and Hillary Clinton defeated Donald Trump in the district by a margin of over 20% last year.