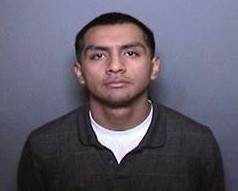 Eric Alan Cabrera, 20, Garden Grove, AKA Eric Alan Cabrera Mora, will serve the 16-month sentence concurrently with a two-year term for burglary, according to the Orange County Register. Cabrera got caught vandalizing a mural depicting nearly 200 portraits of Mexican-American men and women who served in the U.S. Military in World War II, the Korean War, and the Vietnam War.
Cabrera was accused of vandalizing a mural, "Among Heroes," on the side of a small business on Washington Avenue in Santa Ana by spray painting graffiti on the wall, between March 11, 2018, and March 12, 2018.
He was also accused of vandalizing a clothing store on 1st Street in Santa Ana by tagging graffiti on its exterior wall, at approximately 2:30 a.m. on March 12, 2018. That incident was captured on surveillance cameras and reported to the Santa Ana Police Department, who investigated this case.
The popular mural, which was painted onto the side wall of the historic La Chiquita market, was restored by its artist with the help of more than $11,000 raised by SAPD police officers and a crowdfunding campaign. The father of Officer John Rodriguez, one of the police officers who helped raise the money, is featured on the wall and was present to help hand a donation check to Aguilar, according to the Orange County Register.
Cabrera got caught because SAPD police officers viewed surveillance footage and were able to see his vehicle's license plate number and thus linked him to the crime.
Cabrera apparently committed these crimes on behalf of a criminal street gang.
On March 15, 2018, Cabrera was arrested in Anaheim on unrelated charges.