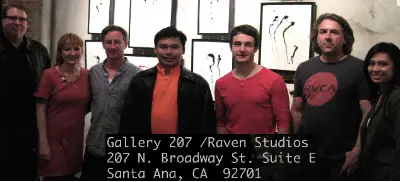 For Immediate Release
Contact: Jaydee Dizon, 310.962.4520
Support Our Local Artists at Gallery 207
Let's give the "Artistes" at Santora Arts Buidling a round of applause in keeping the arts active for the past 17 years! This year, Gallery 207, a non–profit Artist Cooperative launches a fundraiser to promote their creative endeavors by showing a number of small works for purchase. Join us during April's Artwalk on Saturday, April 7th from 6-10 PM at 207 N. Broadway St., Suite E in downtown Santa Ana.
Featuring our Gallery 207 Artists:
Caesar Alzate Jr., Mix Medium Artist. Alzate-ism, Post-Color field painting.
Krystof Andres, Photographer & Cinematographer's documentation of the earthquake in Haiti 2010
Katie Arminie works in oils, acrylics, charcoal and in mixed media. New work, Timeless Artist's Pets series.
Douglas Cross, Sculptor. "Bringing new life to retired surfboards," and "Celebration of surf culture."
Jaydee Dizon, Fine Art Photographer. here and there, a "Kodak" moment from a tourist's mind.
Kenneth Inlow, Artist. His artwork can best be described as Psychedelic-Surrealism.
Ingrid Reeve, Painter. Abstract Landscape series…"memory of a landscape."
Mauro Rosa, Contemporary Visual Artist. Mediums of pastel and pig hide are utilized in Mauro's artwork.
Ben Walker, a self taught Artist/Painter. Love, Sex, Death: A Story About a Nobody series.
Gallery 207 is dedicated in promoting traditional and contemporary artists from Southern and Northern California and plans to build relationships all over the US and internationally in the near future.
Gallery 207 / Raven Studios
207 N. Broadway Street, Suite E, Santa Ana, CA 92701
Closing Reception: Saturday, April 28th, 12-5 PM
Gallery hours: First Saturdays 6-10 PM, Saturdays 12-5 PM
Visit us on the web at http://gallery207.org for more information!
###