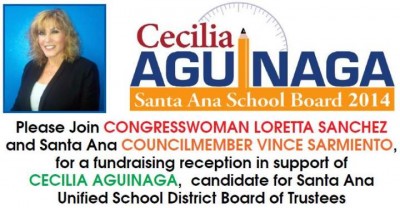 Cecilia Aguinaga, a leading candidate for the SAUSD School Board election in November, is hosting a campaign fundraising reception on June 5, from 5 to 7 pm, at The Avocado restaurant located at 2525 N. Grand Ave., in Santa Ana.
Congresswoman Loretta Sanchez and Santa Ana Councilman Vincent Sarmiento are headlining the fundraising reception.
A donation of $35 is requested for individuals. RSVP to Cecilia at 714-478-2918 or via email at ceciaguinaga@msn.com.
Click here to check out Ceci's campaign website.