The Taiwu Children's Ancient Ballads Troupe, with Daniel Ho, will be presented in a free educational showcase on Tuesday, August 27, 2013, from 11:00 a.m. to 12:30 p.m., at the Bowers Museum in Santa Ana.
"To & From The Heart" promises to be an inspiring and rewarding program that revives the Taiwanese indigenous culture through music. To the children, the songs are like an umbilical cord linking them to their ancestors, and now they are proudly introducing their cultural heritage to the world through their pure and earthly voices.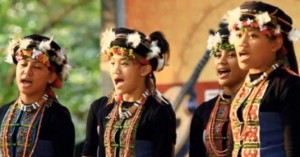 The Taiwu Children's Ancient Ballads Troupe is from the indigenous Paiwan tribe of the Taiwu village of southern Taiwan. Paiwan ballads have been passed down the generations as an oral tradition in the absence of written language. Daniel Ho's simple philosophy of presenting music with sincerity and artistry encompasses six consecutive GRAMMY Awards, number-one albums on national airplay charts, and top-ten albums on Billboard as a composer, performer, engineer, and producer.
This public program is FREE for everyone! Sponsored by Taiwanese Ministry of Culture, Wind Music, and Daniel Ho Creations. Presented in partnership with Pacific Asia Museum and Bowers Museum. A special thank you to the Bowers Chinese Cultural Arts Council, Angela Hsu and Joe and Flora Ko.
To become a supporter of the Bowers, please contact the Membership Department at 714.567.3639.
The Bowers Museum, in Santa Ana, is centrally located in the heart of Southern California.  Their address is 2002 North Main Street, Santa Ana, CA 92706. Tickets and Information/ 714.567.3600.
Group Tours: grouptours@bowers.org / 714.567.3655
Membership: membership@bowers.org / 714.567.3639