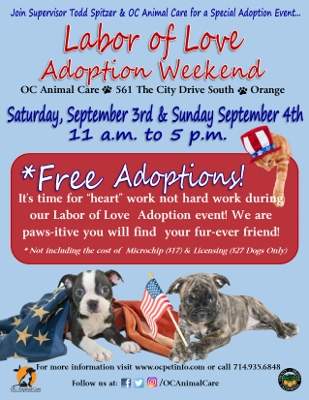 FOR IMMEDIATE RELEASE: August 26, 2016
CONTACT: Melanie Eustice, Communications Director

Phone: (714) 834-5492 Mobile: (714) 581-7784
Supervisor Todd Spitzer to Sponsor Pet Adoption Event with OC Animal Care on Saturday, September 3 and Sunday, September 4, 2016
(Orange County, CA) – Supervisor Todd Spitzer is sponsoring a Pet Adoption Event on Saturday, September 3rd and Sunday, September 4th.
The event will feature free pet adoption, a savings of $89 to $124. The microchip fee of $17 and the licensing fee of $27 are paid by the new owner.
"Pet adoption saves animal lives. This free pet adoption event invites people to grow their family with a new pet," said Supervisor Spitzer.
The event is at the OC Animal Shelter located at 561 The City Drive South, Orange, CA 92868. The free pet adoption event is going to be held during normal working business hours of the OC Animal Shelter from 11:00 am to 5:00 pm.