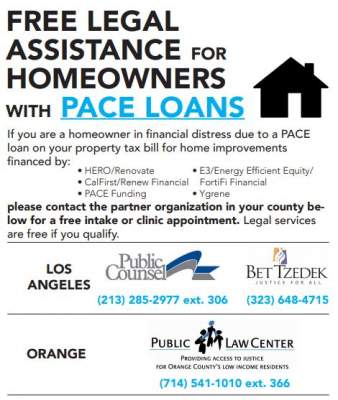 The Public Law Center (PLC) has seen a number of homeowners struggling to pay their property taxes after agreeing to "energy efficient upgrades" that homeowners believed were free upgrades through government programs.
In reality, contractors soliciting these upgrades misled homeowners and did not explain that the upgrades would be paid through their property taxes through the Property Assessed Clean Energy (PACE) program. The average yearly increase in property taxes is almost $5,000.00.
Most homeowners are on fixed incomes so an additional $5,000.00 a year often means a property tax lien and, in some cases, foreclosure.
PLC can assist homeowners with PACE loans for free. For contact information and information on other legal service providers in Southern California click here to view flyer.
Asistencia Legal Gratuita para Propietarios de Viviendas que Luchan con Préstamos PACE
Si necesita información en español llame al Public Law Center (714) 541-1010.