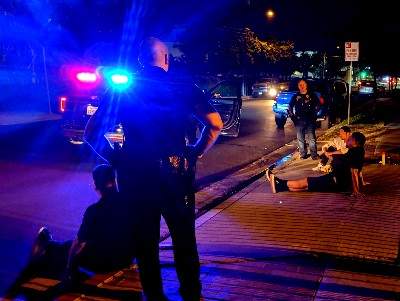 COSTA MESA, Calif. – The Costa Mesa Police Department (CMPD) collaborated with the Orange County Probation Department (OC Probation) on Wednesday, Aug. 28, 2019, to conduct compliance checks on offenders subject to Post-Release Community Supervision (PRCS), per the State Prison Realignment Assembly Bill 109.
These checks were designed to locate and audit the activity of local criminal offenders and gang members residing within the City of Costa Mesa, who are under the supervision of OC Probation.

Gang Investigators completed 16 location checks, and they contacted 30 individuals.
The compliance checks resulted in four offenders arrested, including:
Jordan Charlesworth, 28, Costa Mesa, for illegal possession of a stun gun and a probation violation;
Seth Rand, 33, Costa Mesa, for a PRCS related probation violation;
Pedro Chavarin, 20, Costa Mesa, for a felony bench warrant; and
Oscar Velasquez, 21, Costa Mesa, for a probation violation. All arrestees were booked at the CMPD Jail and later transported to the Orange County Jail in Santa Ana.